Early Girl Tomatoes With Shio Koji Gribiche. A Taste Of Tartine Manufactory With Chef Nicolas Pena.
Meet Chef Nico Pena from Tartine Manufactory in San Francisco. Learn how to cook Early Girl Tomatoes with Shio Koji Gribiche!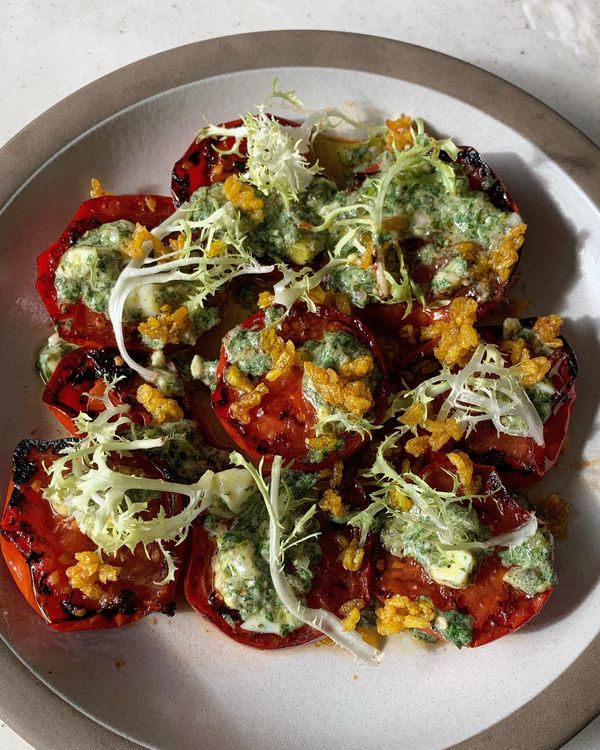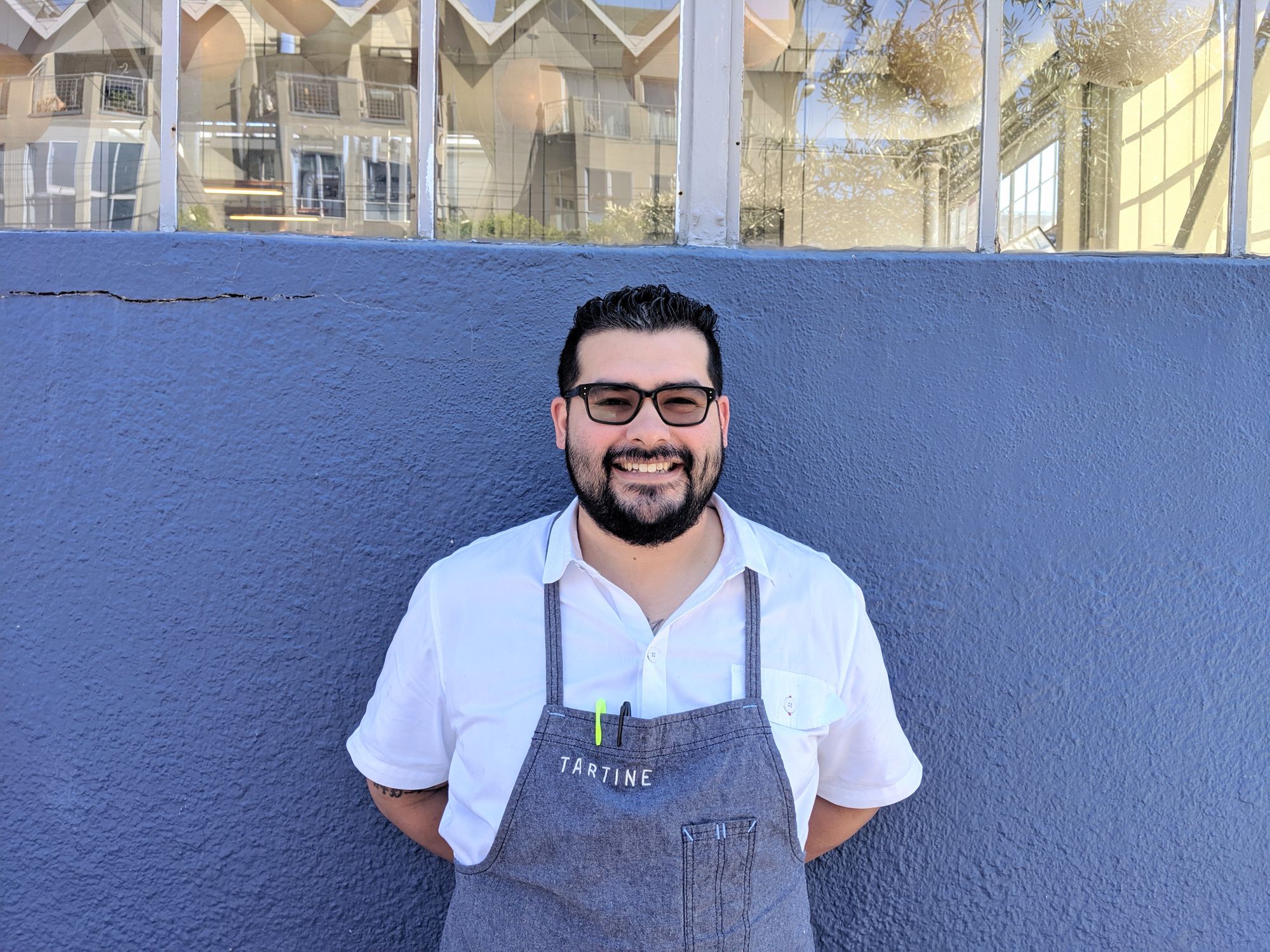 Nicolas "Nico" Pena is the Executive Chef at Tartine Manufactory in San Francisco. The restaurant is part of the Tartine group of restaurants and bakeries. They have a farm to table approach to cooking and emphasise a "philosophy of flavor, craft and human health". The Manufactory incorporates a bakery along with an all-day restaurant and bar. To get to know Chef Nico, we asked him a few questions and to share one of his favorite recipes.
What do you like to cook and why?
"Every restaurant I have chosen to work in has been for a purpose. I love to cook for people.  What truly inspired me to become a chef was watching my grandma cook and entertain family. Sourcing is super important to me. The way I cook relies on the products. I love talking to the growers and producers of the products I use. Hearing their stories inspires me so much and helps me decide what makes it on to the plate."
What is your best cooking tip?
"My best cooking tip to readers is to be ready to adapt to the ingredient. Recipes might say to use one certain ingredient in one certain way, but you have to let the ingredient speak to you."
What would you like to change about the restaurant industry?
"I would like to help build a culture in the restaurant industry that helps everyone working in it to explore the world.  I want to provide back and front of house employees the ability to experience other cultures through food in those specific regions."
What is your favorite dish to cook and recommend to dinners?
"My favorite dish to cook/recommend is Early Girl Tomato / Shio Koji Gribiche / Puffed Rice. Right now tomatoes are hitting their peak in San Francisco.  We serve it as a hot vegetable dish."
Why did you choose this recipe to share?
"I choose this recipe to share because of the shio koji gribiche. We make our own shio koji and instead of a traditional gribiche, we use the shio koji puree as the aioli in the recipe. Right now the gribiche is served over charred Early Girl tomatoes that are at the peak of the season. As the seasons change, so can the vegetable that is served with the shio koji gribiche. In fall, it would go great with roasted red kuri squash, in winter grilled leeks would be a great option and in spring asparagus blanched is another great choice."
Recipe: Early Girl Tomatoes with Shio Koji Gribiche and Puffed Rice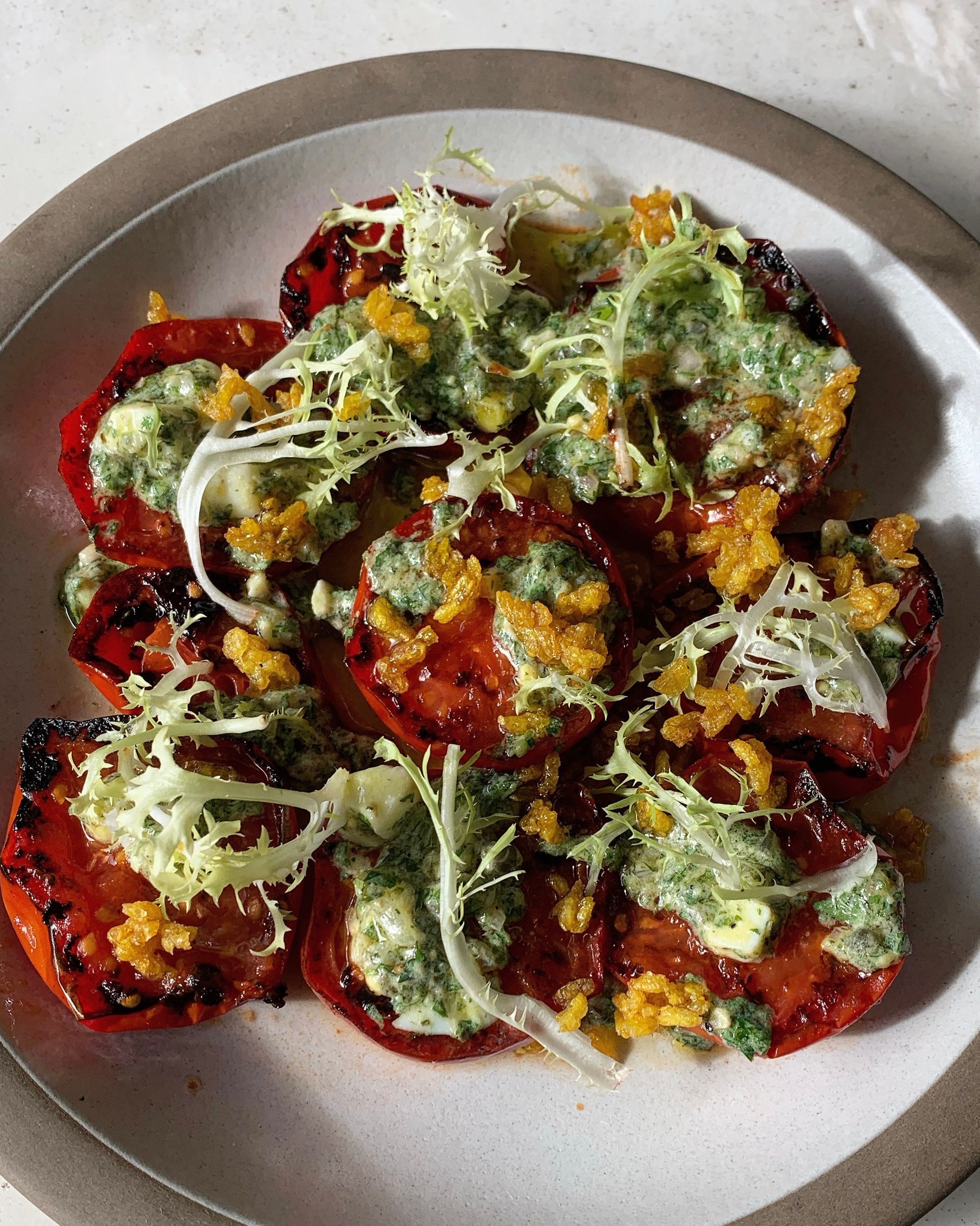 Early Girl Tomato, With Shio Koji Gribiche, Puffed Rice...
Ingredients:
Tomatoes - 3 Early Girl Tomatoes
Gribiche:
300g shio Koji (puree)
225g olive oil
105g hard boiled egg (chopped)
45g cucumber pickle (chopped)
30g dijon mustard
30g shallots (small diced)
25g capers (rinsed + chopped)
25g rice wine vinegar
16g chervil (chopped)
Salt and pepper to taste
Rice: 1/2 cup brown rice
Garnish: Chervil + frisee
Preparation:
Slightly cut bottoms and tops of tomatoes, so that they're squared off to sit on the plate. Cut in half down the equator.
Make the Gribiche: Once all of the ingredients have been chopped and diced, whisk together in a bowl. Season with salt and black pepper (shio koji has a high salt content, so be careful when adding salt).
Cook 1/2 cup of brown rice in 1 cup of water by boiling it for one minute and simmering for 20 minutes. Once cooked, spread evenly on a tray to cool and dehydrate. When it is fully dehydrated, fry at 350F until puffed and golden brown.
Season tomato with salt on the cut side and sear in a cast iron pan on high heat. Once nicely charred, remove from the pan and arrange on the plate.
Spoon the Gribiche over the tomatoes and sprinkle puffed rice on top. Garnish with frisee and chervil.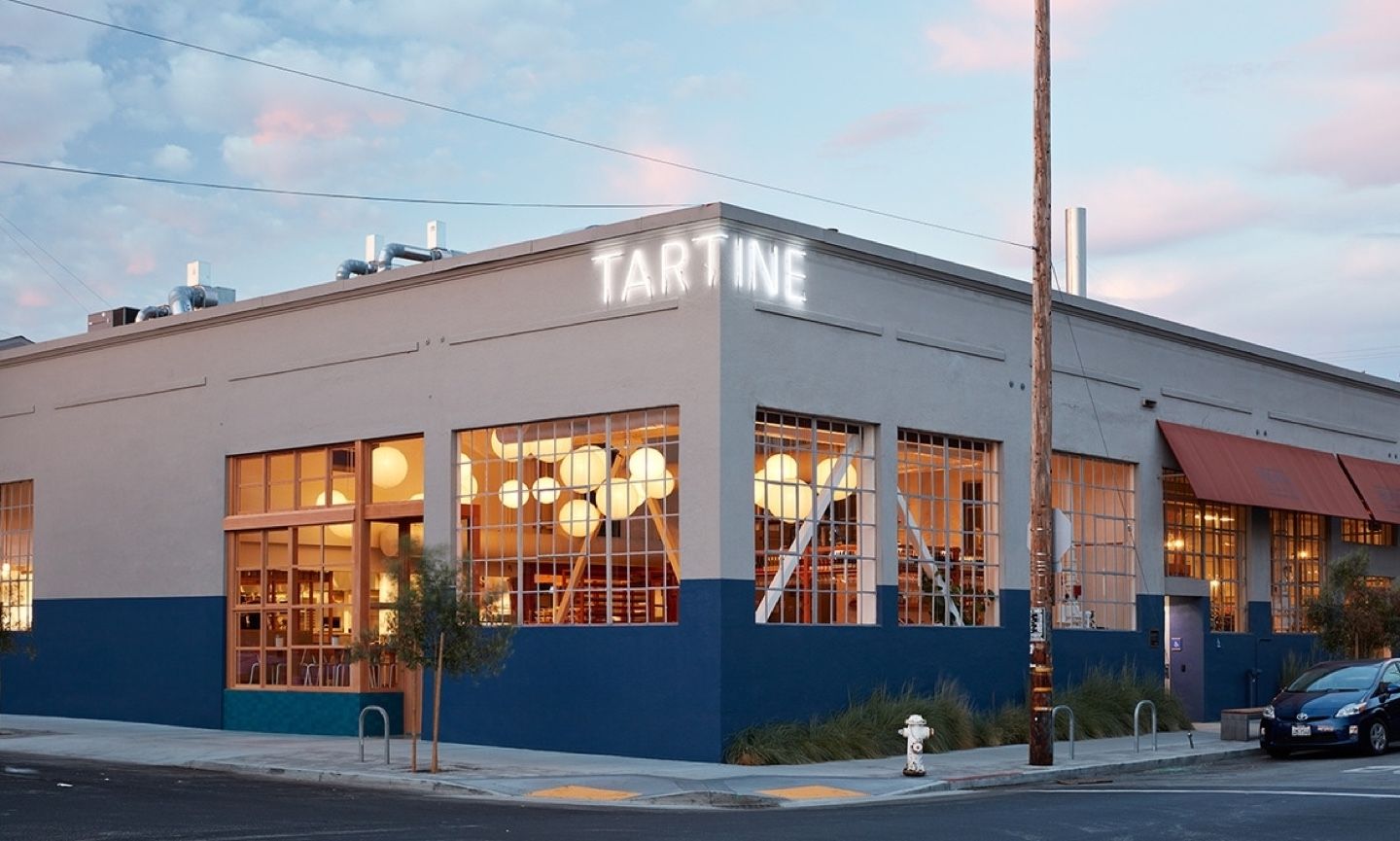 Tartine Manufactory
595 Alabama St, San Francisco, CA 94110, USA