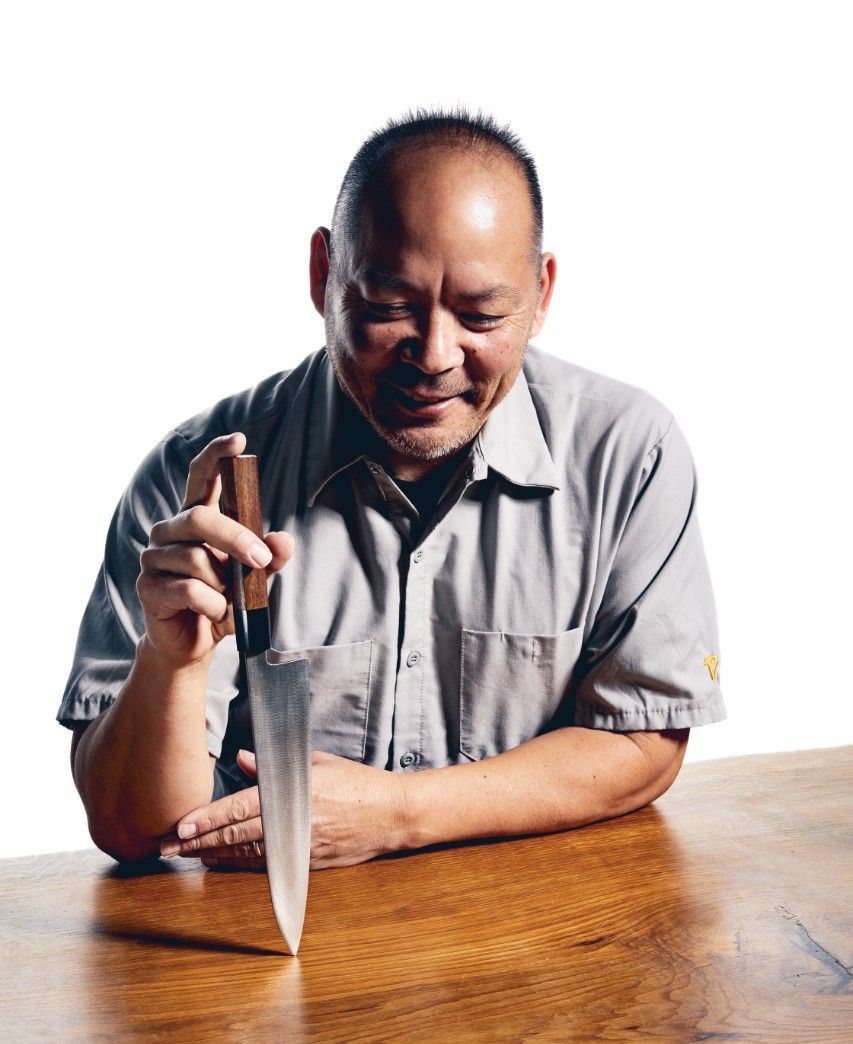 Chef Osaka is the chef/owner of [email protected], Sushi-Rama, Osaka Ramen in Denver, Colorado and The Empire Lounge & Restaurant in Louisville, Colorado. Born in Los Angeles, he has gone on to have a very successful 25-year career in the culinary world. His cooking has garnered praise from critics and peers alike, including a James Beard Foundation Best Chef Southwest semifinalist nomination. Chef Osaka has worked as a private consultant, cooking and catering for some of the most notable names in Hollywood (including Steven Spielberg) and alongside chefs Bradley Ogden at One Market and Wolfgang Puck at Chinois, Las Vegas.
While at Chinois, Chef Osaka refined his cooking technique to deftly implement Puck's concept of marrying Asian cuisine with French influences. Following his time in Las Vegas, Chef Osaka spent ten years in Jackson Hole, Wyoming before moving to Denver, Colorado in 2008. In Denver, he opened 'Twelve', a restaurant intensely inspired by the changing seasons as the restaurant's entire menu changed every month. 'Twelve' closed in August 2014 after a highly successful six-year reign. In 2016, he brought back his critically-acclaimed 'Twelve' concept with [email protected] in the Congress Park neighborhood, Denver. In order to learn what drives him as a chef, we asked him some questions and to share one of his favorite recipes.
What do you like to cook and why?
"I've always had a fascination with cooking, even at a young age; however, I don't have stories of climbing up on a stool at a young age to help mom roll out pie dough or assisting dad with all things grilled. My experience came later, working in a grocery store, starting in high school, for about 10 years. Being around food, but in a different regard than a professional kitchen, made the transition to restaurants easy. Product identification in the produce department, learning pastries in the bakery, spending time with the butcher or fishmonger. I think it is my natural curiosity as to why I love this business so much, every day is a different day. My style of cooking is a product of the city I grew up in, Los Angeles. It's the biggest melting pot on the west coast, with the number of immigrants and the wide options of cuisines, match that with the amazing produce available, I could say I grew up spoiled. This is why I cook the way I do."
What is your best cooking tip for readers?
"The finger test has never failed me!"
What is one thing you would change about the restaurant industry (or the wider food industry) if you had the power to do so?

"When I was at the James Beard Foundation's Chefs Bootcamp for Policy and Change last year, one of the focuses was how to apply the advocacy tools we learned to wherever you may want to take your career, which made me start thinking about starting a nonprofit organization that supports workers in the hospitality industry."
What are your favorite dishes to cook on your current menu that you recommend the most to diners?
"For summer, we have a Corn Ramen on the menu at Osaka Ramen with a miso broth (pork and chicken broth with miso pasta), Olathe corn, pulled pork, garlic, spinach, scallions, soft egg, and salted butter. When I first moved to Colorado, I was told we have the best peaches (from Palisade), best melons (Rocky Ford) and best corn (from Olathe) - which I took as bold statements at best. But when I had my first bite of Olathe corn, it really spoke to me. Specifically, where has this been all my life, how do I get my hands on it and how can I incorporate this into a dish? After much research (i.e. taste tasting), you have my version of the perfect bowl of ramen!"
Why did you choose this recipe to share?
"The veggies used in this recipe are readily available this time of year, and it is something different when folks are ready to go beyond burgers and dogs."
Recipe: Grilled Ratatouille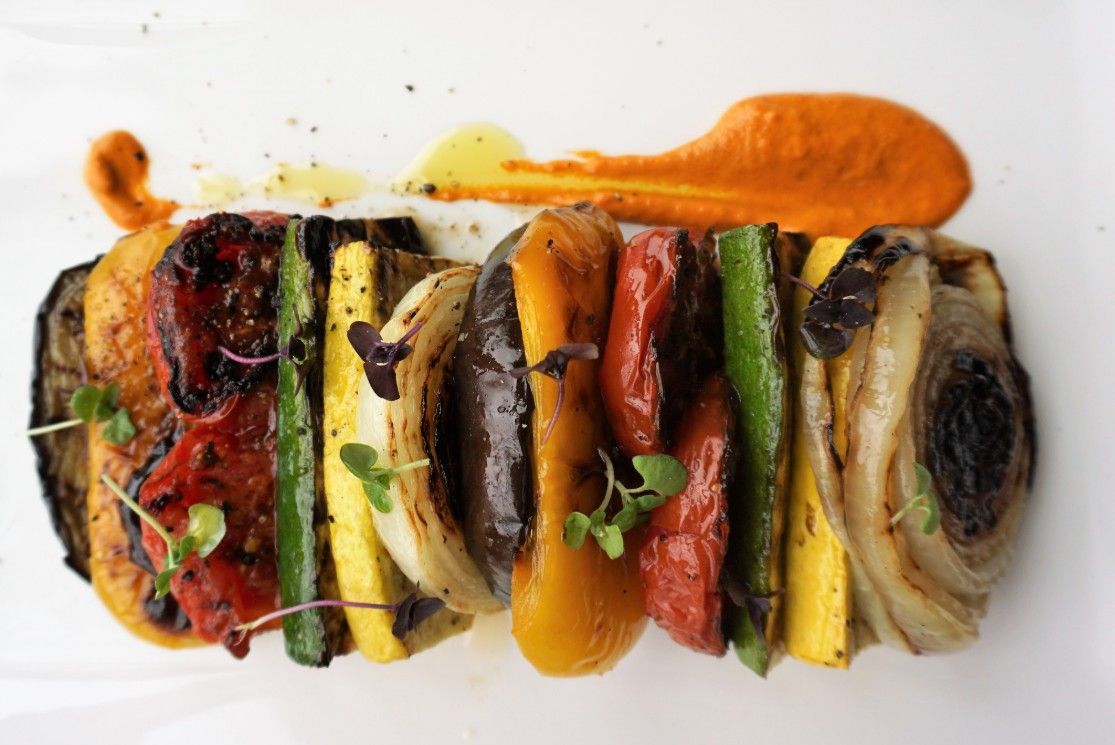 Ingredients:
1/4 cup, plus 2 tablespoons extra-virgin olive oil, divided
3 teaspoons freshly minced garlic (about 3 medium cloves)
1 tablespoon finely chopped fresh basil leaves
2 teaspoons finely chopped fresh marjoram leaves
1 teaspoon finely chopped fresh thyme leaves
2 heirloom tomatoes, halved lengthwise
1 large zucchini, cut lengthwise ½" thick
1 large yellow squash, cut lengthwise ½" thick
1 medium globe eggplant, cut into 1/2-inch rounds
1 large yellow onion, cut into 1/2-inch rounds and skewered horizontally
1 red bell pepper, stemmed, seeded, and quartered
1 yellow bell pepper, stemmed, seeded, and quartered
Kosher salt and freshly ground black pepper

Directions:
In a small bowl whisk together 2 tablespoons oil, vinegar, garlic, basil, marjoram, and thyme. Season with salt and pepper to taste; set aside.
Place tomatoes, zucchini, yellow squash, eggplant, onion, and bell peppers on a large rimmed baking sheet. Drizzle remaining 1/4 cup oil over vegetables and season with salt and pepper to taste. Toss to thoroughly coat vegetables in oil and seasoning.
Preheat grill on medium-high setting. Clean and oil the grilling grates. Place vegetable slices on grill and cooked until browned on both sides, about 3 minutes per side for zucchini, squash, and eggplant, about 5 minutes per side for tomatoes, onion, and peppers.
Transfer vegetables to serving platter, pour in herb/oil mixture over top. Serve immediately while warm or at room temperature.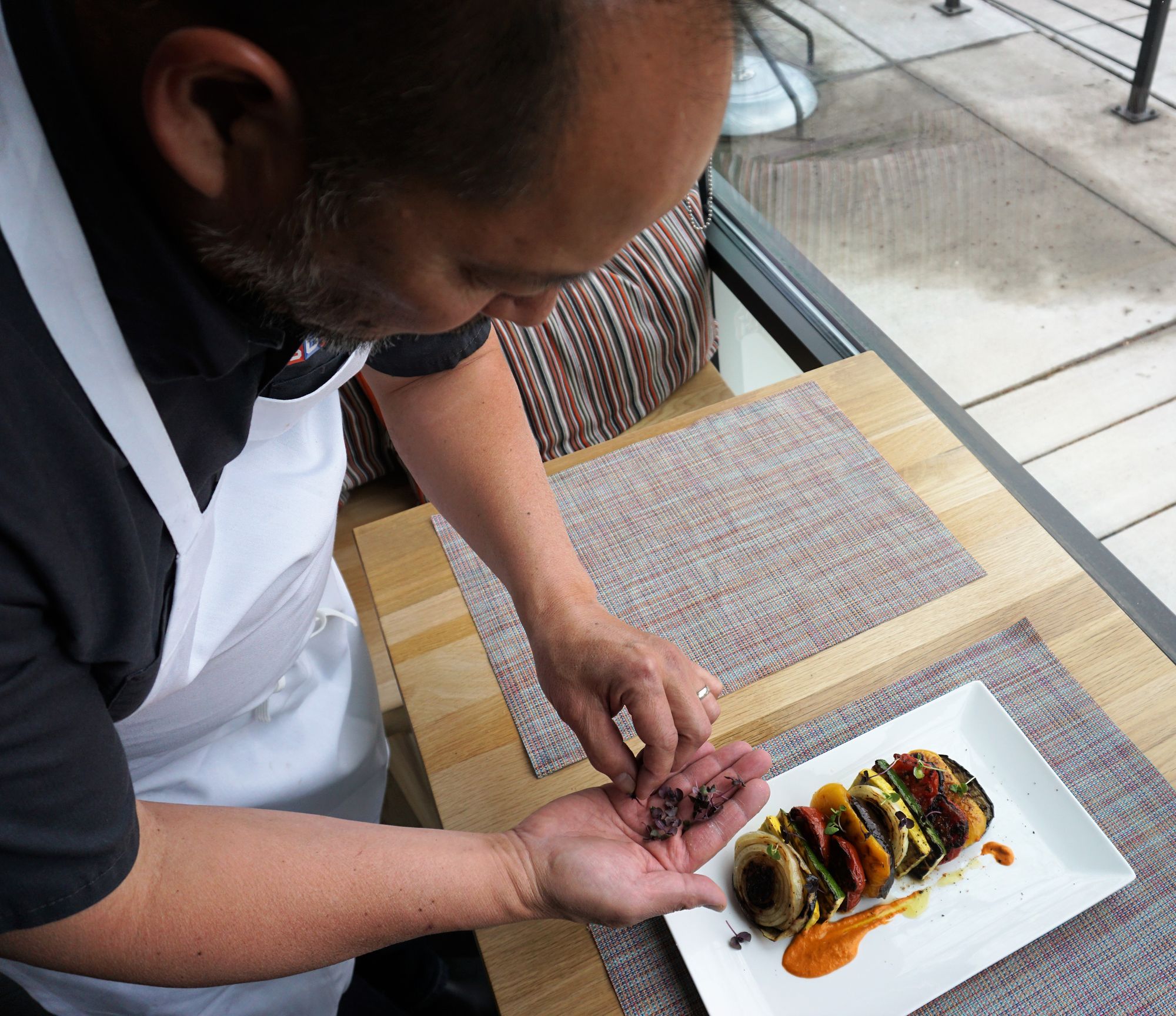 1160 Madison St, Denver, CO 80206, USA
Website  .  Facebook  .  Instagram