Paella Mixta. A Taste Of Ultreia With Chef Adam Branz.
Meet Chef Adam Branz of Ultreia Restaurant in Denver, CO. Learn how to cook the Ultreia Paella!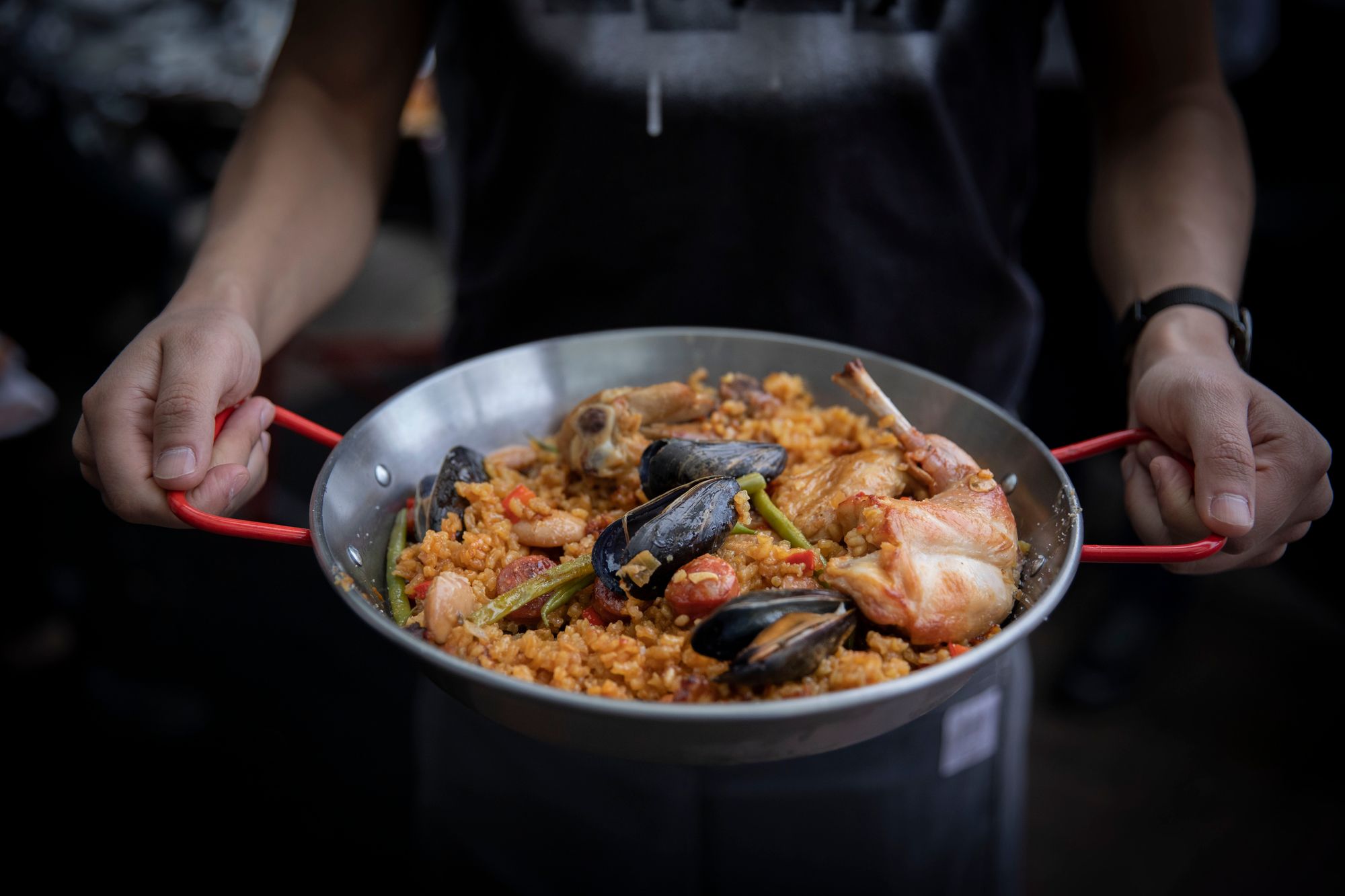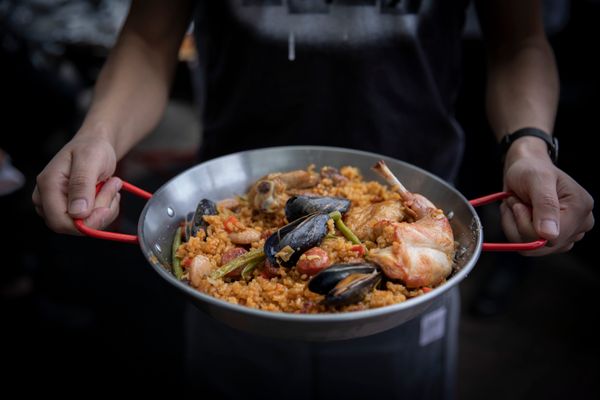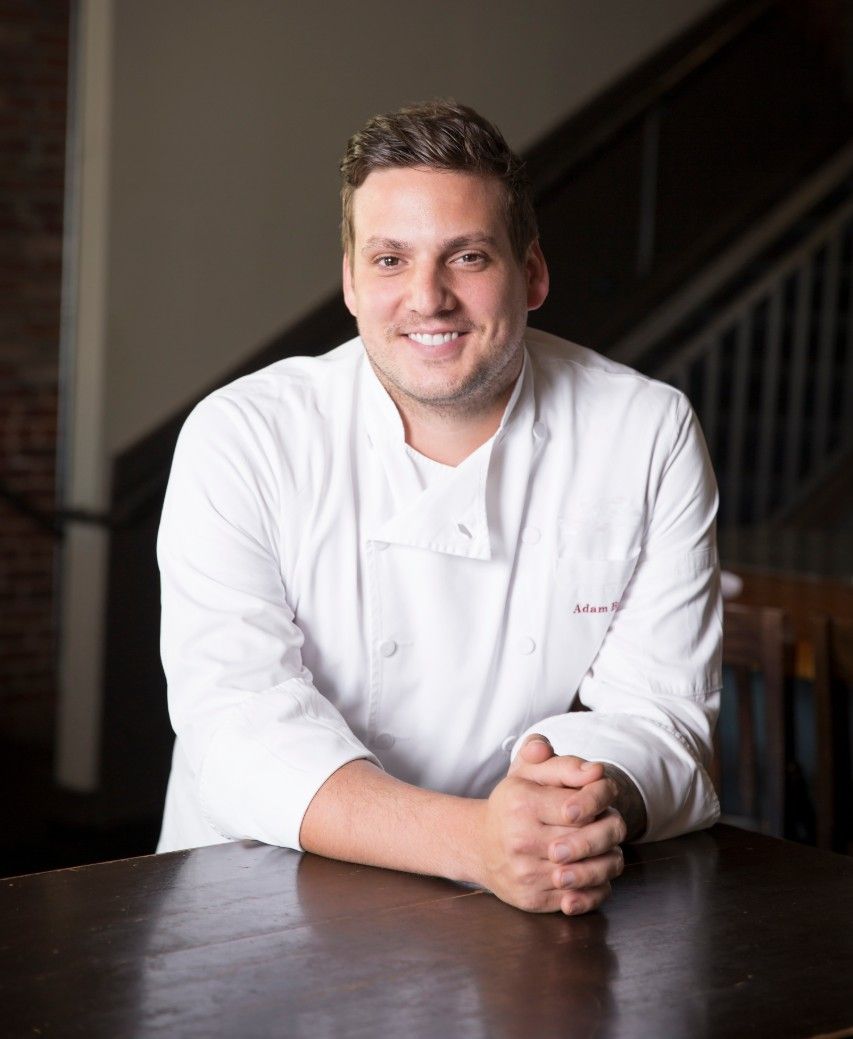 Adam Branz is the Executive Chef at Ultreia Restaurant in Denver, Colorado. The restaurant is located in Denver's Historic Union Station. They offer a menu inspired by the food and dishes from the Iberian Peninsula countries of Spain and Portugal. Chef Adam is a graduate of Le Cordon Bleu, St. Louis, where he graduated at the top of his class. He has worked at numerous top restaurants in the United States before taking on the role of Executive Chef at Ultreia in 2017. To learn what drives him as a chef, we asked him some questions and to share one of his favorite recipes from Ulteria.
What do you like to cook and why?
"I love cooking vegetables. I am a vegetarian outside of my day job. My ideal dinner would be veggies charred directly in an open fire then dressed with olive oil, salt and vinegar. Escalivada, ratatouille, carottes râpées, potato confit, etc. Simple vegetable preparations that open up a world of depth and flavor. Acid is very important to me, and it always comes in the form of vinegar or lactic acids from fermenting. Every chef to have ever written anything down has been an inspiration for me. Like most chefs, I spend most of my free time flipping through cookbooks, so much so that it has grown into an obsession. Chef Christian Puglisi is a huge inspiration for me right now."
What is your best cooking tip?
"Think about balance. Simply, why do mozzarella sticks and marinara sauce work? Creamy melted cheese, crispy exterior, acidic-sweet-spicy (if you're doing it right) sauce. Fat and acid, heat and sweet, umami, texture! Focus on a balance and the world will open up."
What would you like to see change in the restaurant industry?
"One thing I would like to see more of in our industry is general wellness. I want our generation of industry professionals to be the change. I would love it if people (not in our industry) didn't think first about our long hours and second about our substance abuse. We can all stand to drink less, do less drugs, do something for yourself, find balance. Save up the money you would be spending at the bar every night and pay off debts, travel and work in interesting restaurants."
What dishes on your current menu do you love to cook?
"I am a big fan of our fermented carrots. The locally grown baby carrots are fermented in olive brine and take on an olive forward, lactic tang. They are served with labneh that has been whipped with olive oil, almonds and mint. It's a super refreshing and interesting dish that takes three weeks to put on a plate."
Recipe: Ultreia Paella Mixta
"We chose to share this paella recipe because it's a really good representation of Ultreia. We cook a 45 inch pan of Paella Valenciana on the patio every Saturday during the Farmer's Market season and – similar to good BBQ restaurants – when it's gone, it's gone. There are a lot of flavors packed into our version of the national dish of Spain. Our version is a touch different than the authentic, but still a crowd-pleaser with chorizo, chicken, shrimp and mussels."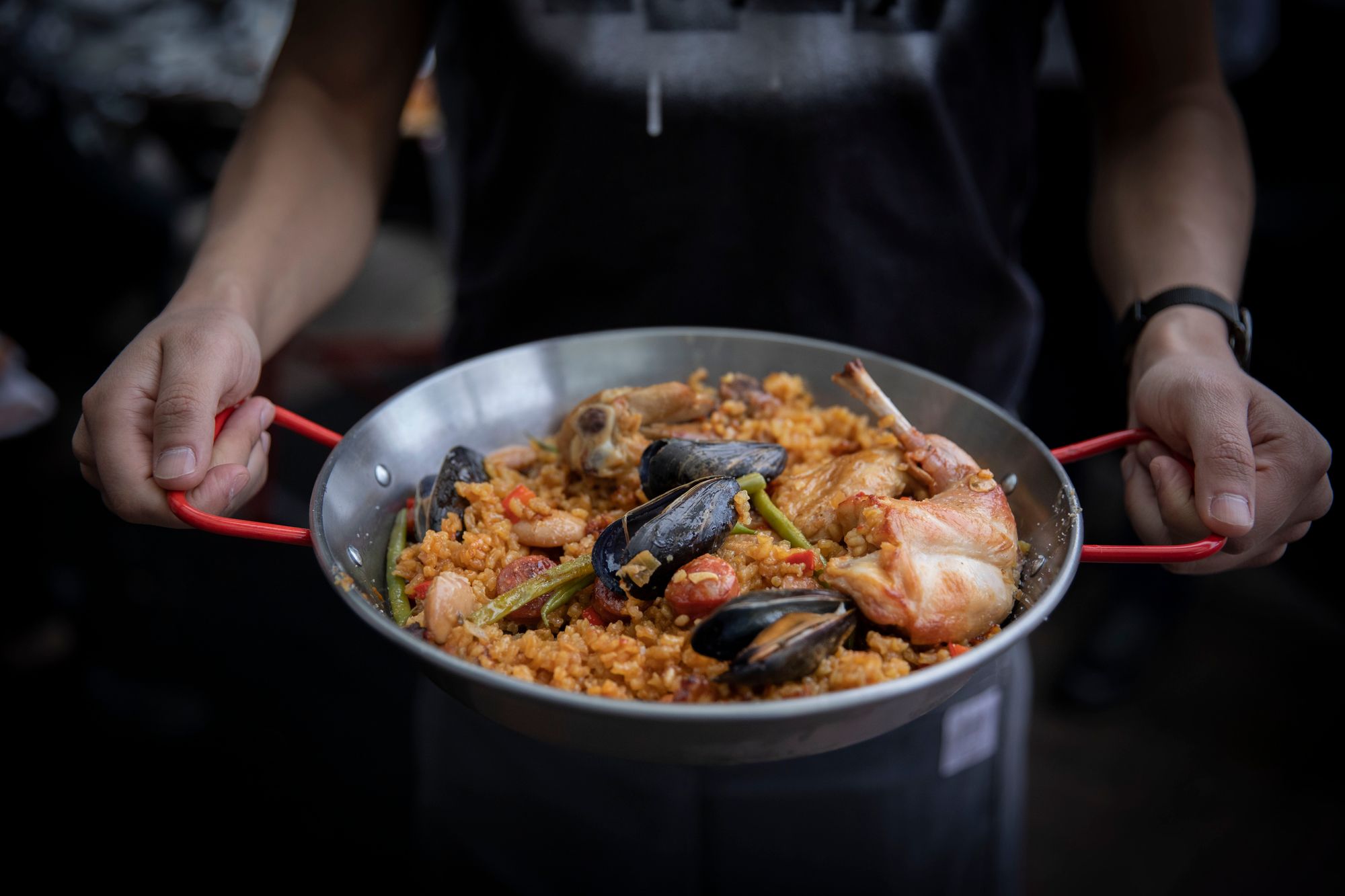 (Serves 4)
Ingredients:
4 cups chicken broth
Pinch saffron*
3 tablespoons olive oil
2 oz chorizo picante, sliced thin*
5 oz boneless, skinless chicken thighs
1/2 onion, finely chopped
3 garlic cloves, minced
1 red bell pepper, diced
1 tomato, grated on a box grater
1/4 lb green beans, preferably romano beans
2 cups bomba rice*
6 large shell on, head on shrimp
8 mussels, beards removed and scrubbed clean
Aioli, on the side
Lemon wedges, on the side
*included in paella kit's that are available from the restaurant.
Directions:
Bring the chicken stock and saffron to a boil in a sauce pot. Reduce heat to keep just warm until ready to use.
Heat olive oil in the paella pan over high heat. Season the chicken with salt and pepper and put into the hot oil in a single layer. Reduce heat to medium. Cook, stirring occasionally, until well browned, about 5 minutes.
Add the chorizo and cook for 30 seconds. Add the onion and cook for 2 minutes while stirring. Add the garlic and stir for 30 seconds. Add the red bell pepper, tomato puree and green beans and let simmer for 1 minute.
Add the hot chicken stock and bring to a boil. Season to taste with salt. Sprinkle the rice evenly in the pan. Stir it a little to make sure its evenly distributed and submerged in the liquid, but then don't touch it again. You don't want to activate the starches and make the mixture creamy. The goal is to have the grains cook separately from each other. Boil for 5 minutes.
Reduce the heat to medium and simmer until the rice is al dente, about 10 minutes. Season the shrimp with salt and pepper and add to the rice, pressing down into the rice. Cook for 2 minutes and flip the shrimp. Add the mussels to the pan pressing down into the rice. Cook until all of the liquid evaporates and the rice forms a crispy crust on the bottom of the pan, about 5 minutes. Remove from the heat and cover with a dry kitchen towel. Let sit 5 minutes.
Garnish with aioli, parsley and lemon wedges and serve directly from the pan.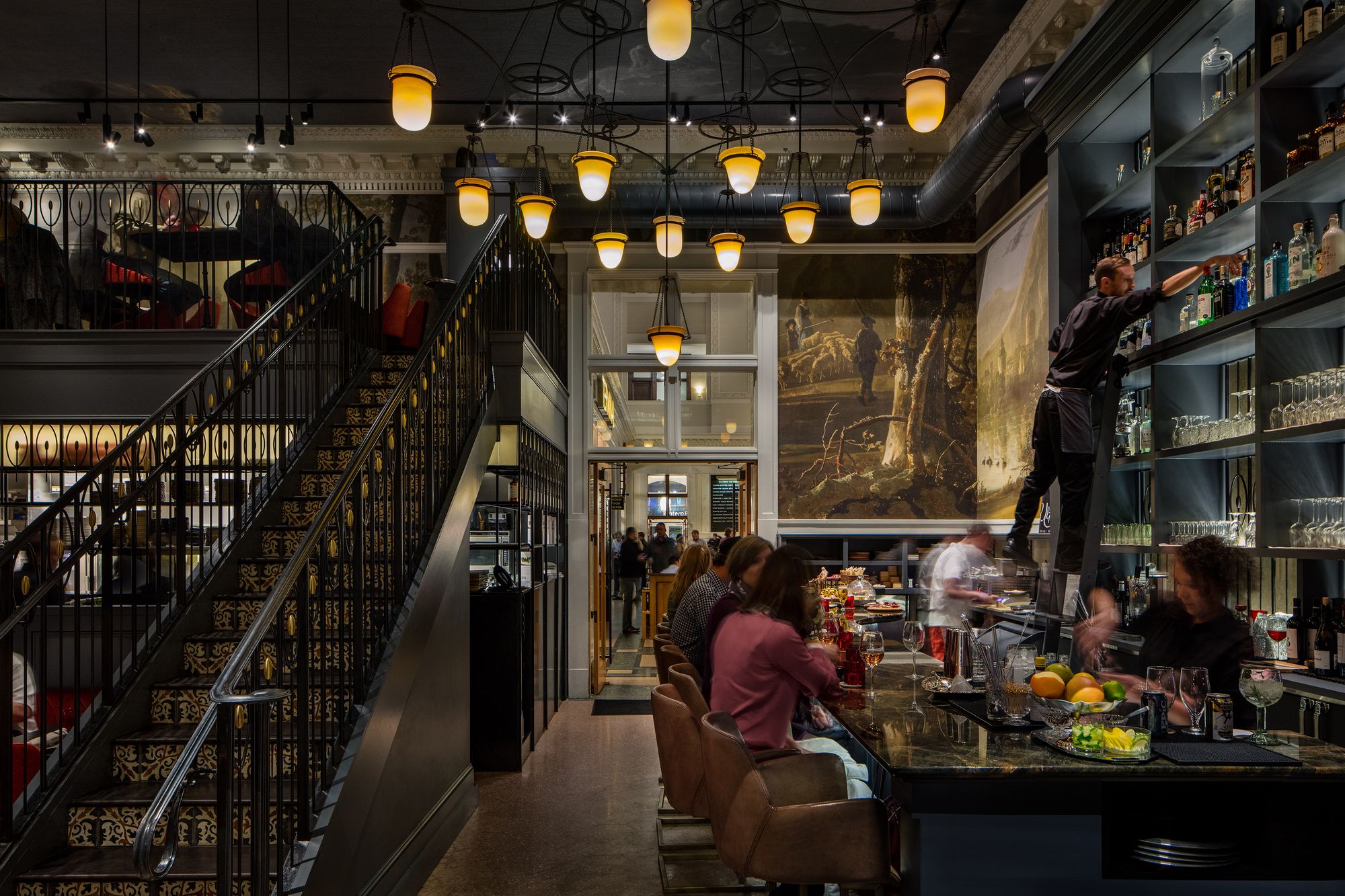 Ultreia Restaurant
1701 Wynkoop St, Denver, CO 80202, USA