Pasta al Pomodoro with stracciatella and fresh basil. A Taste of Aromi with Chef Paolo Masciopinto.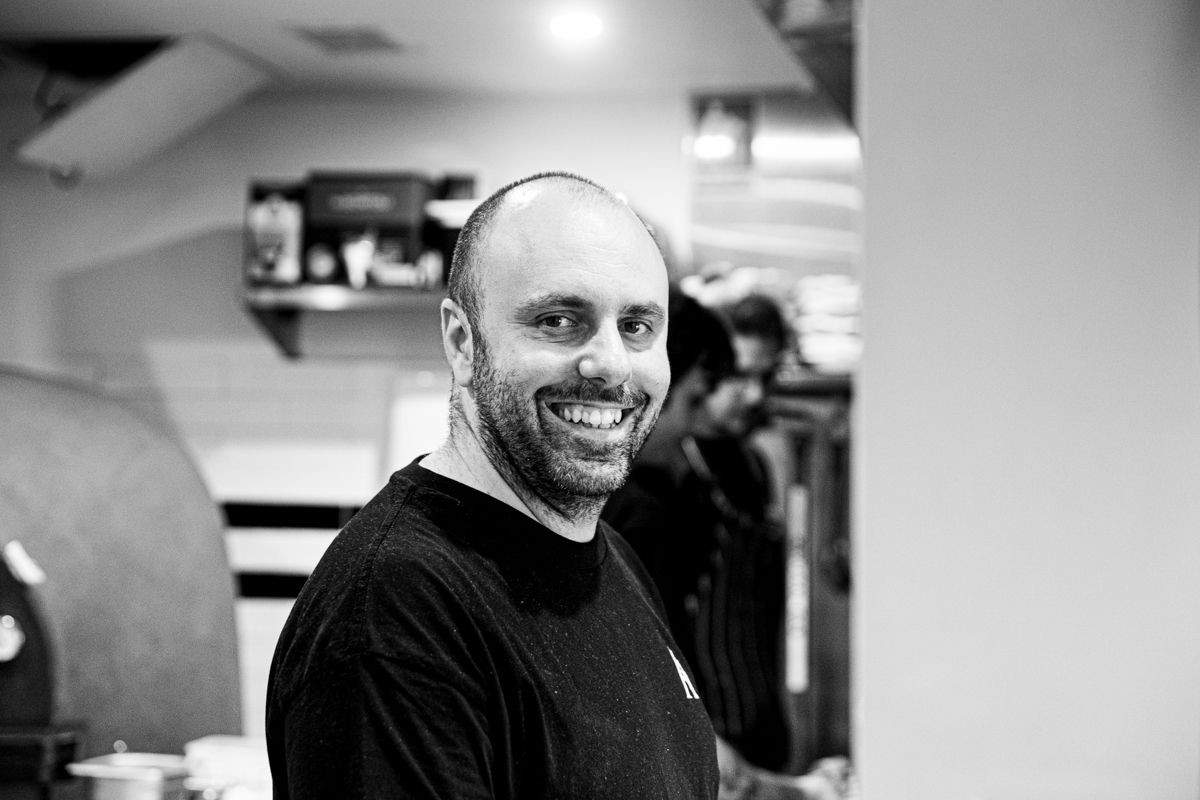 Paolo Masciopinto is the chef and co-owner of Aromi Restaurant in Melbourne, Australia. The Italian restaurant can be found in Brighton, where they offer a farm-to-table menu that emphasizes the best seasonally available ingredients, and the 'best-of-market' offers from their producers, providores and growers. Diners can also sample Aromi's amazing selection of house-made bread, pasta and wood-smoked fish. To learn what drives Paolo as a chef, we asked him to share what he likes to cook, his best cooking tips, and one of his favorite recipes.
What do you like to cook and why?
"What I like to cook at Aromi is not a specific food or recipe but quality ingredients in general. Quality produce makes me more aware of the way I am using the food itself and allows me to respect all of the natural flavours when I combine them with other garnishes. I believe I discovered this side of myself while I was working in England under Giorgio Locatelli. He spends most of his time looking for top quality ingredients to serve, and uses traditional techniques to amplify their natural taste."
What is your best cooking tip for readers?
"TASTE, TASTE, TASTE"
What do you know now that you wish you knew when you first started as a chef?
"I wish I knew that being a chef is about inspiration, not just about recipes. As a young chef I would meticulously follow recipes to the letter. Now, when I work on a new Aromi recipe, I challenge myself to keep the same flavour, but change textures or enhance aromas. A great example is the 5 layered Tiramisù. It started as a challenge to keep the original taste but change the soft texture of the dessert. I remember my mum putting chocolate buttons in her Tiramisù and I used to really enjoy the crispy little bites, so I started thinking I could use a crispy savoiardi instead of soaking them in coffee. Then I played with temperatures by keeping the mascarpone separated from the hot zabaione. The finished product is a 5 layered Tiramisù made of coffee jelly, crispy savoiardi, chocolate biscuits, and mascarpone mousse, topped with hot zabaione. Trust me, all the time finessing it was worth it!"
What are your favourite dishes to cook on your current menu?
"At the moment, I'm very excited about the zucchini flowers and amazing tomatoes we are getting straight from my friend Mat's farm in Geelong. He is also growing some piquillo peppers for us that will be on Aromi's menu soon – keep your eyes peeled!
I also have to say, being from Piemonte, I have a special connection with "vitello tonnato". It is a classic dish that showcases my heritage and reminds me of my childhood."
Why did you choose this recipe to share?
"I'm sharing my recipe for Pasta al Pomodoro with Stracciatella and fresh basil; it's perfect for the warmer weather. It thoroughly represents what Italian cooking is..... simple, beautiful and super tasty."
Recipe: Pasta al Pomodoro with Stracciatella and fresh basil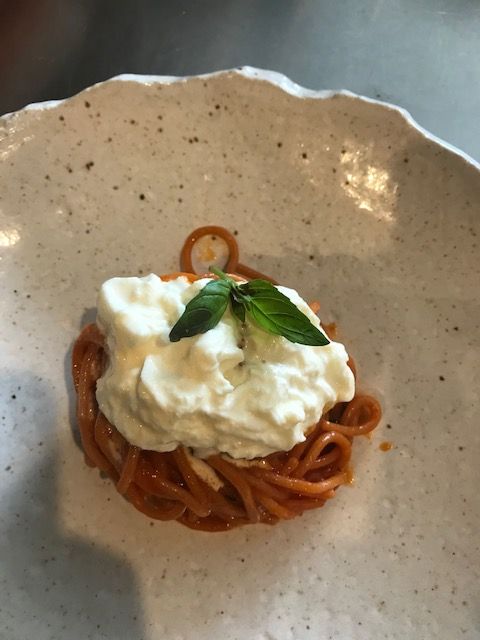 Pasta dough (serves 4)
500g manildra gem of the west
Semolina flour 100g
Tomato pulp 125g
Whole eggs
Pinch of salt
Tbsp of evoo (extra virgin olive oil)
For the sauce (serves 4)
2 cloves of garlic finely sliced
Oil for cooking
200 g tomato sauce (Napoli)
Garnish:
Method:
For the pasta: Mix all ingredients together and knead the dough until smooth. Let it rest, wrapped in Glad Wrap for at least an hour at room temperature or overnight in the fridge. When rested, cut off a portion and flatten it. Use a rolling pin or a pasta machine, the second is faster and easier.
Cut the pasta with the spaghetti cutter of the pasta machine. Alternatively you can roll it up and cut it thinly with a knife. The latter again will give it the special "handmade" unevenness.
For the sauce: Sweet the sliced garlic in some cooking oil for about 1 minute on low heat, then add the tomato sauce and bring to the boil.
Cook the pasta in salty water then strain when cooked and add to the sauce.
Keep the pan on the heat for another minute, then turn the heat off and add a little bit of olive oil.
Mix the pasta well and serve in the middle of the plate.
Put the stracciatella on top of the pasta, then the basil leaves, and a little olive oil. Happy days ;)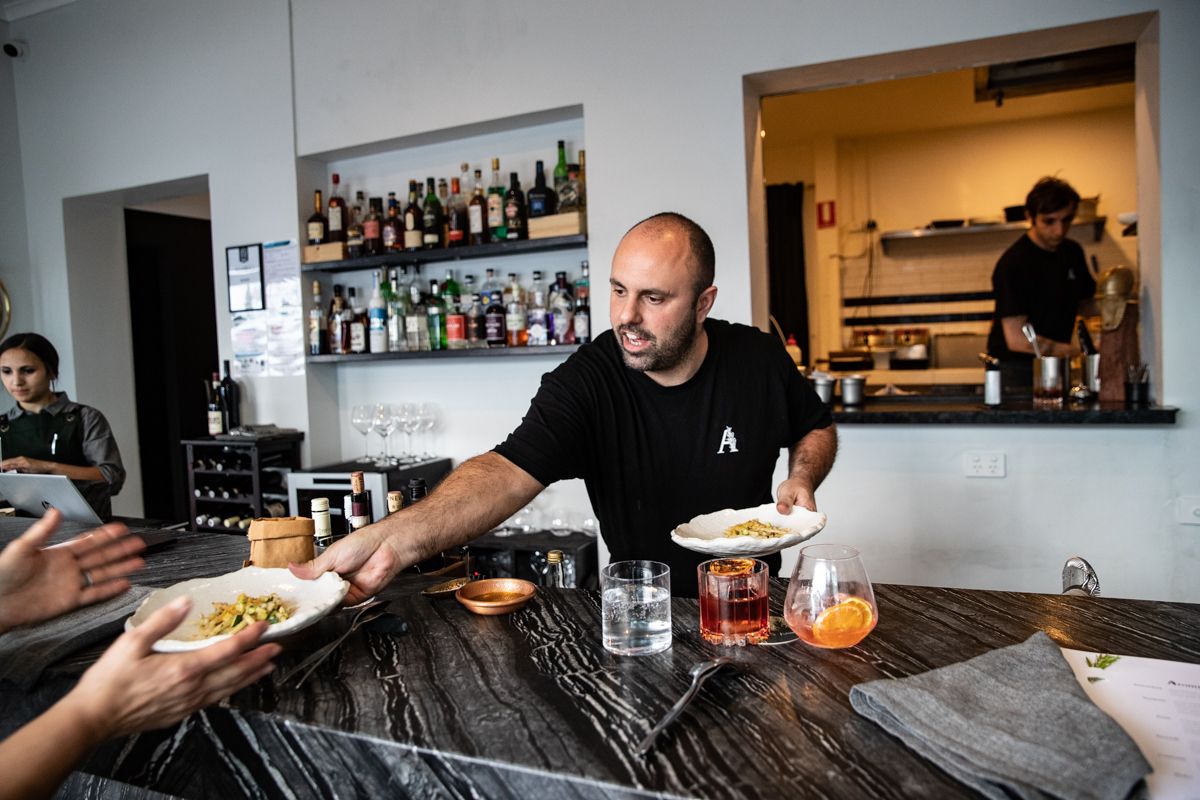 Aromi Restaurant
312 New Street, Brighton 3186 VIC