Melbourne
There's Nothing Better Than Family and Good Food. A Taste Of Matilda Restaurant With Chef Scott Pickett.
"Growing up with my grandmother Audrey's Sunday roasts set me on the path to being a chef. Roasts are simple yet delicious and show genuine respect to the produce. There's nothing better than family & good food."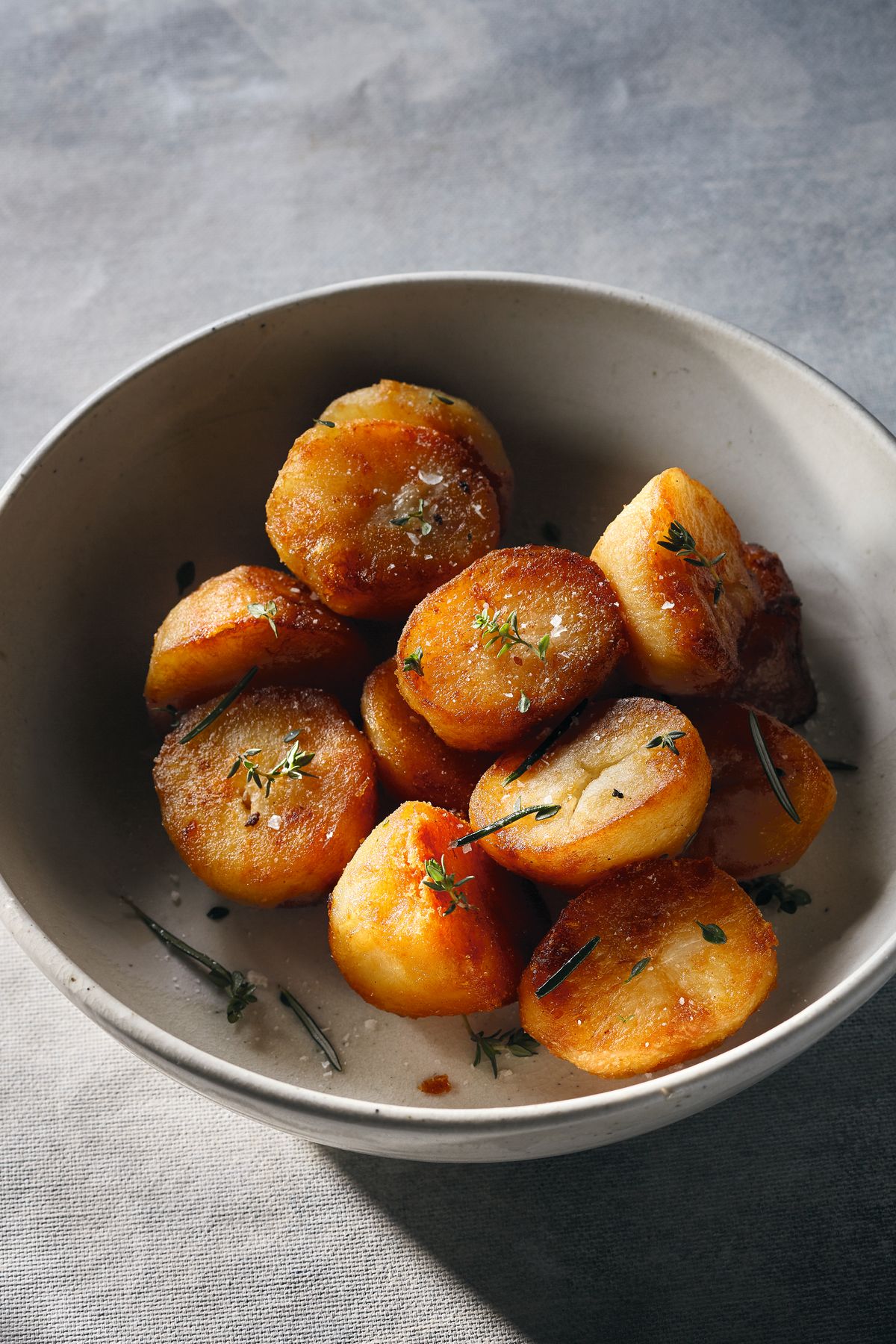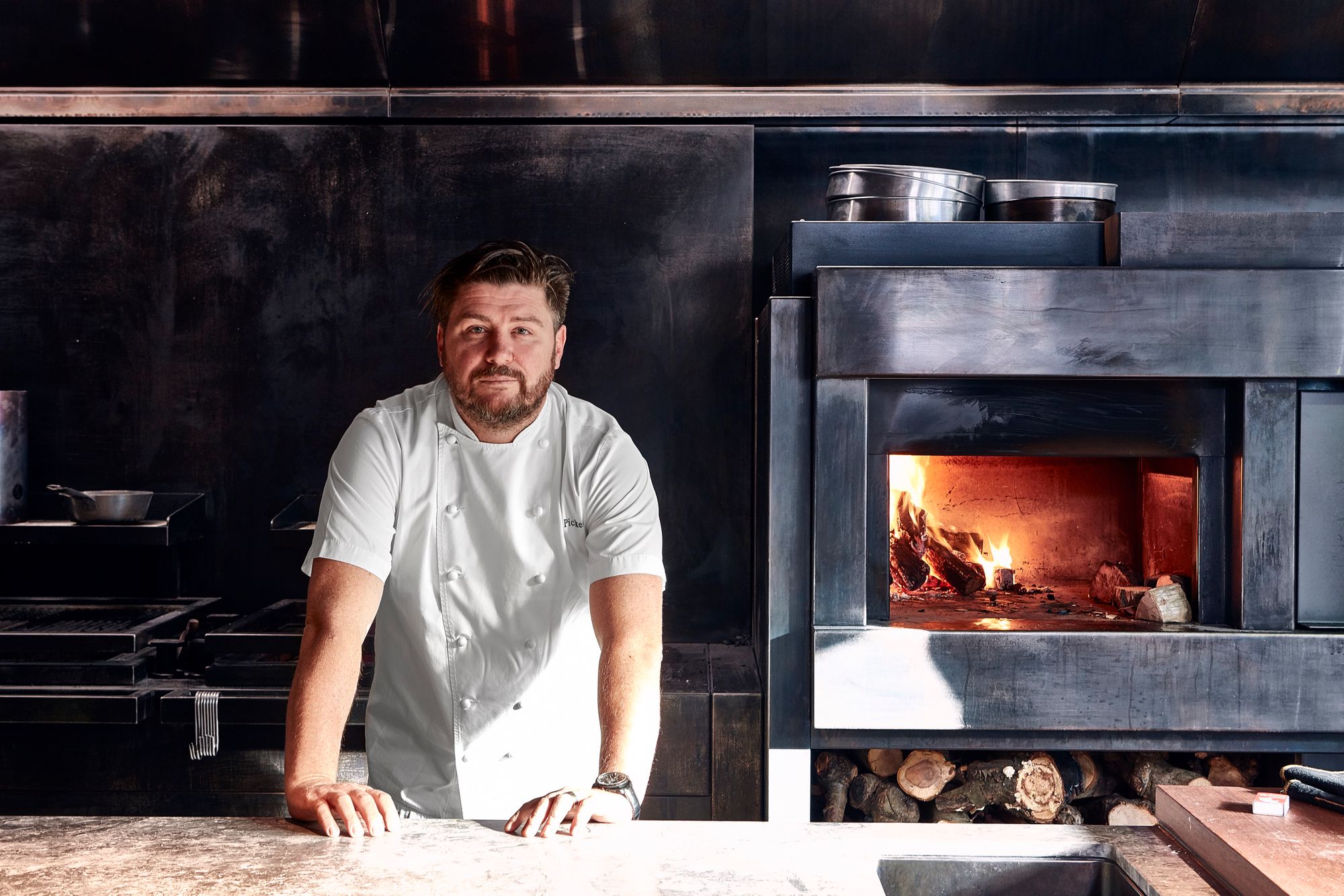 Scott Pickett is the Executive Chef and Owner of the award-winning Matilda Restaurant in Melbourne, Australia. The restaurant offers a menu of locally sourced meats, cooked over open fire and hot coals, paired with amazing local produce. You'll find Matilda across the street from the Botanical Gardens in South Yarra, in a beautiful space with a laid-back and welcoming atmosphere. To get to know Scott better, we asked him some questions, and to share one of his favorite recipes.
What do you like to cook and why?
"From the moment I first stepped into a kitchen at 14 I found my home. I've never done anything else and probably never will. It's where I feel comfortable, it's where I grew up, it's where I like to be. Growing up as a kid on a farm in Kangarill taught me a lot about food and seasonality. Knowing the growers and producers behind the food we ate gave me a respect for them that I'll never lose. My style of food is based on real cooking – with the greatest regard for the produce and the ingredients as the hero."
What is your best cooking tip for readers?
"Don't over complicate it! And salt is your friend."
What do you know now that you wish you knew when you first started as a chef?
"Where do you start!? I suppose something that I didn't understand as a young aspiring chef that I do now, is that one day you will get to be the teacher, but you'll never stop being a student. No matter how many years I spend in the kitchen, it changes, the team changes and the food changes. I love learning from my guys as much as I love teaching them."
What are your favorite dishes to cook on your current menu that you recommend the most to diners?
"A dish that's been on the menu since Matilda opened and is still one of my favourites is the dressed Fraser Island Spanner Crab with flatbreads & prawn butter. You've got the perfect combination of the sweet crab meat, studded with punchy finger lime and some charred, doughy flatbreads. It's a decadent DIY sandwich. I also love to recommend the Retired Breeding cow porterhouse. It's not something that everyone knows about so it gives me a chance for me to talk about a stunning piece of beef with an immense depth of flavour, while sharing the story of the ethical butchers and sustainable farmers who've introduced us all to the beautiful product that is 'vintage beef'."
Why did you choose this recipe to share?
"Growing up with my grandmother Audrey's Sunday roasts set me on the path to being a chef. Roasts are simple yet delicious and show genuine respect to the produce. There's nothing better than family & good food."
Recipe: Roast Lamb with Duck Fat Potatoes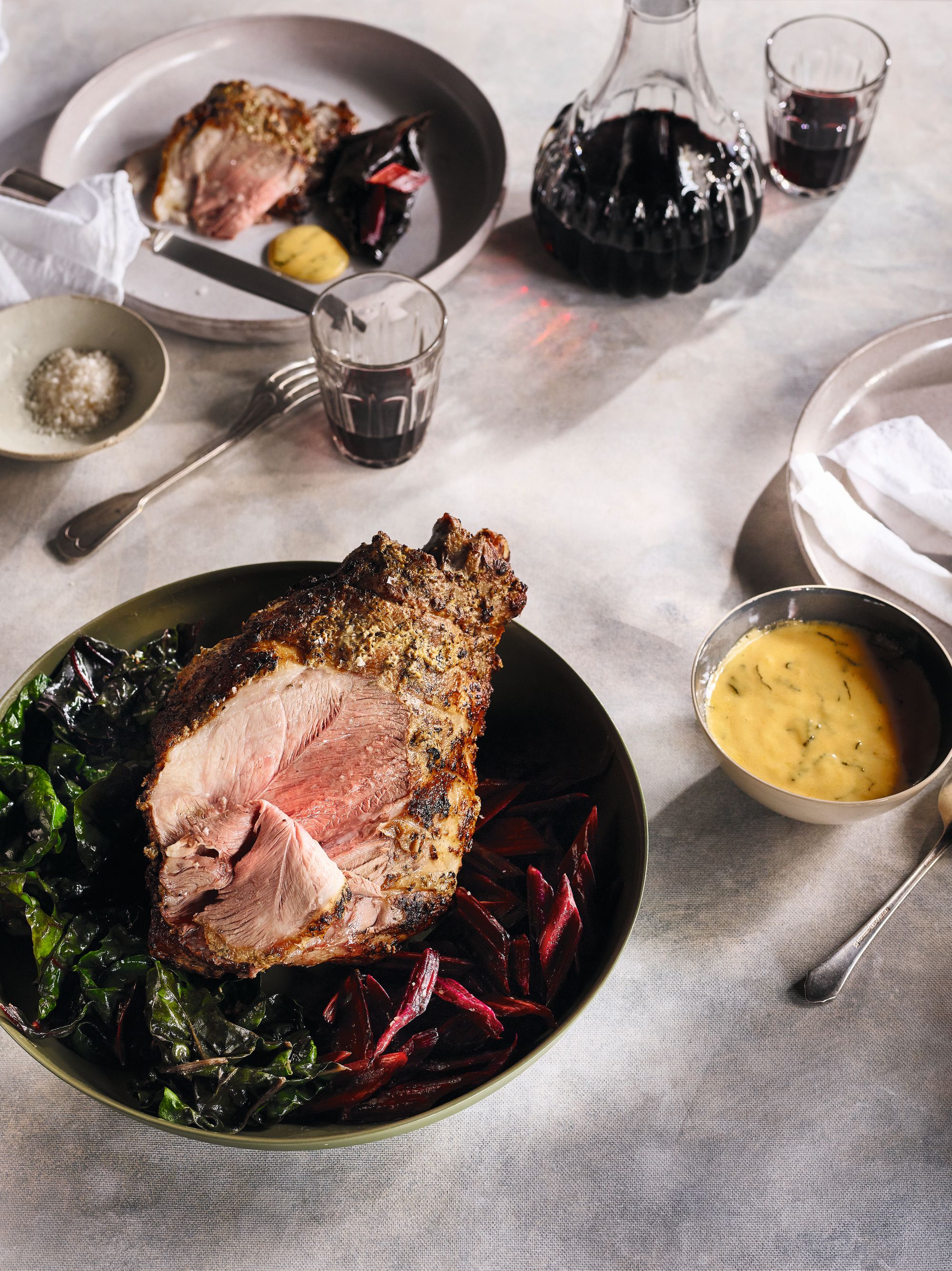 Roast Lamb, with Rainbow Chard, and Sauce Paloise
Ingredients:
Lamb:
1 x 2 – 2.2kg leg milk-fed lamb
Sea salt
Freshly ground black pepper
150 ml extra virgin olive oil
Finely grated zest of 1 lemon
½ bunch rosemary, leaves chopped
½ bunch thyme, leaves chopped
2 tablespoons Dijon mustard
10 cloves of garlic
Rainbow Chard:
2 bunches rainbow chard, washed thoroughly
100ml extra virgin olive oil
50g butter or lamb dripping
3 cloves garlic, finely sliced
Finely grated zest and juice of 1 lemon
Pinch of freshly grated nutmeg
Sauce Paloise:
6 egg yolks
50ml tarragon vinegar
50ml warm water
Juice of ½ lemon
250g butter, melted and still warm
1 bunch mint, leaves picked and finely chopped
Sea salt
Freshly ground black pepper
Directions:
Preheat the oven to 160°C. Use kitchen string to tie the leg uptight so it holds its shape and is firm to the touch. Season well with salt and pepper. Heat a large pan over medium-high heat and sear the lamb until it is golden all over. Place the lamb on a rack in a roasting pan. Combine the olive oil, lemon zest, rosemary, thyme, mustard and garlic. Brush all over the lamb, keeping some to use later.
To cook the meat to blushing pink, roast for 1 hour, occasionally brushing with the reserved oil mixture. Test with a meat thermometer inserted into the thickest part of the meat, but not touching the bone. The temperature should be about 55°C. Allow to rest for 20 minutes.
To prepare the chard, separate the leaves from the stems. Keep the leaves whole and trim the ends of the stems on the diagonal. Heat the oil and butter in a large heavy-based pan over medium heat until the butter foams gently. Add the garlic and cook until golden and fragrant. Add the chard stems first and cook for 1-minute, then add the leaves and let them wilt down, adding a splash of water if needed to create steam, for a few minutes or until nearly tender. Add the zest and juice, grate some nutmeg over, and season to taste. The stems should be tender and the chard green with a delicious citrus flavour.
To make the sauce, put a pan of water on to simmer. In a heatproof bowl that will sit comfortably over the pan, combine the egg yolks, tarragon vinegar, warm water and half of the lemon juice. Place the bowl over the pan (make sure the base of the bowl doesn't touch the water) and whisk until the mixture is this and forms a ribbon when drizzled back over itself. Remove from the heat. Slowly add the butter in a steady stream, whisking constantly until incorporated. If it looks too thick, add a touch of warm water. Mix in the mint and the remaining lemon juice, and season well with salt and pepper. Serve the sliced lamb drizzled with sauce paloise, with chard on the side.
Duck Fat Potatoes with Herb Salt
SERVES 4–6
Ingredients:
1 kg roasting potatoes
20 g sea salt
1 tablespoon black peppercorns
5 sprigs thyme
1 sprig rosemary
1 bay leaf
5 cloves garlic, unpeeled
200 g duck fat
50 ml olive oil
1 tablespoon thyme leaves, picked
1 tablespoon rosemary
For the herb salt:
1 tablespoon rosemary, chopped
1 teaspoon dried thyme
1 teaspoon dried oregano
1 teaspoon dried basil
1 teaspoon freshly ground black pepper
250 gm's salt
Directions:
To make the herb salt, mix all ingredients in a bowl.
Peel the potatoes and cut into large evenly-sized pieces, so they cook at the same time. Place into a large saucepan with the salt, pepper, herb sprigs, bay leaf and garlic. Cover with plenty of water, place over medium heat and bring to a simmer. Cook the potatoes until they are tender. Be careful – they must be tender, but not falling apart.
Gently drain the potatoes and spread out in a single layer on a tray. Leave in the fridge overnight, uncovered, in order to allow a slight skin to form on the outside.
Preheat the oven to 210°C. Place a large roasting pan in the oven to heat. In a small saucepan, melt the duck fat with the olive oil until hot and combined.

When the roasting pan is very hot, add the oil mixture and then the potatoes. Toss the potatoes in the oil and return the pan to the oven for 15–20 minutes, or until the potatoes begin to form a lovely golden brown crust. Add the thyme leaves and rosemary, and stir the potatoes to expose the uncooked sides. Return to the oven and finish cooking for a further 10–15 minutes. Once the potatoes are a nice, crispy brown, season with herb salt and serve.
Note: This makes more herb salt than you will need for this recipe. It can be used to season just about anything. Store in an airtight container in a cool dark place for up to 4 weeks.

CHEF'S NOTE:
Such a simple dish like this is all about planning. Buy the perfect roasting spud, and once parboiled I like to dry mine out uncovered in the fridge overnight. This removes the excess moisture from the potato to give it
a nice crusty outside when roasted.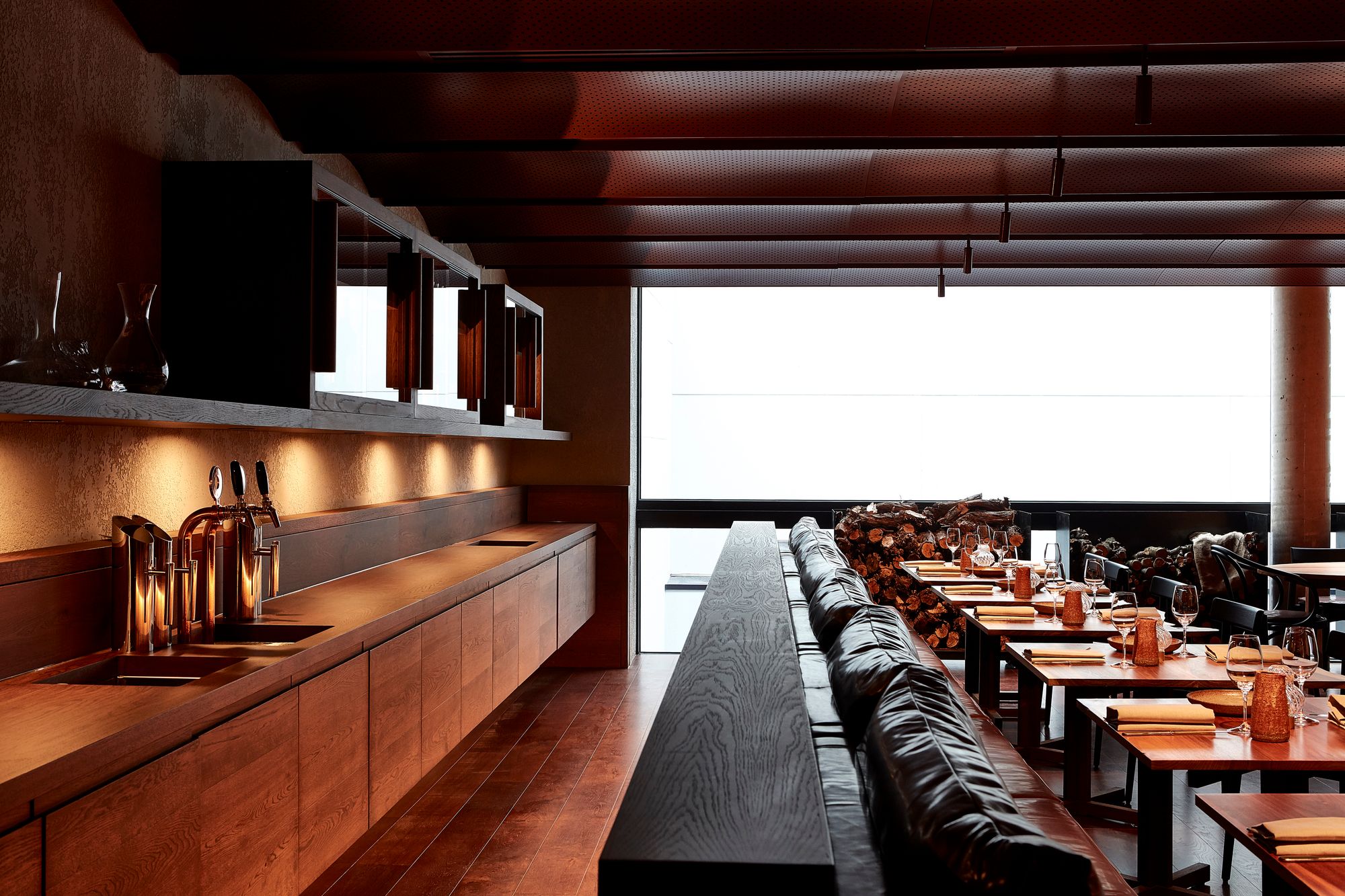 Matilda Restaurant
159 Domain Rd, South Yarra VIC 3141, Australia