This Fish Is Too Hot To Eat. A Taste Of GW Fins With Chef Tenney Flynn
Meet Chef Tenney Flynn of GW Fins in New Orleans.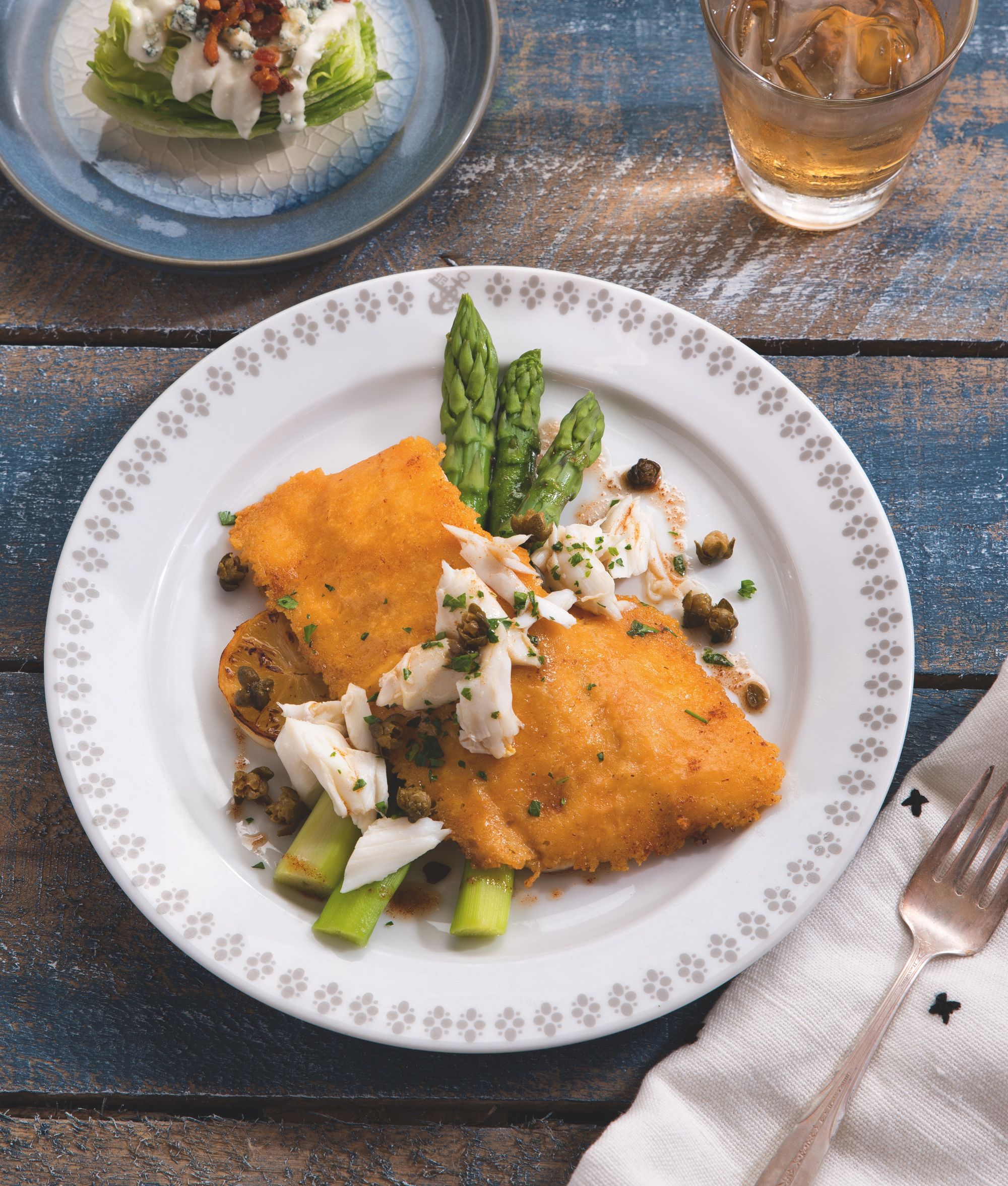 Chef Tenney Flynn is the Chef and co-owner of GW Fins in New Orleans. The award-winning GW Fins has been open since 2001. They specialize in seafood and Chef Flynn has built up a reputation as an expert on seafood in the Gulf of Mexico. To get to know Chef Flynn, we asked him a few questions and for him to share one of his favorite recipes.
What do you like to cook and why?
"I grew up in a casual dining restaurant, and one year, I got to go to the Restaurant Show in Chicago, when I was about 20 or so.  I was hugely impressed by the culinary competition food – the sculpted cold food and the meticulously arranged dishes.  I sort of filed that away and a few years later after escaping the nightclub business, when floundering for career choices, that came to the foreground.
Real life exposure to 'tweezer food' and platters coated in aspic at the CIA (Culinary Institute of America) didn't resonate, and I grew to appreciate the flavors of the food I'd grown up on.  It was the early 80's, and Louisiana food was hot, and that sort of started a move towards the best of American food, and away from worshiping the old European dishes.  Seafood from the Gulf of Mexico is hands-down my favorite today.  It's a chefs' truism that if you have great ingredients, you don't have to do a lot to them, and this is absolutely true about the fish we serve at GW Fins."
What is your best cooking tip?
"When cooking fish prepare everything else first – side dishes, sauces and garnishes.  Seat your guests before you put your fish in the pan. The highest compliment is "this fish is too hot to eat."
What are your favorite dishes to cook on your current menu and what dishes do you recommend the most to diners?
"Our spearfishing season is cranking up now and we buy from three divers who spearfish on the inside of oil platforms, about 30-40 miles off the Louisiana coast. We get fish from them that same day and menu them that night.  Fat cobia is one of my favorites and we pair that with a Thai-inspired mirliton slaw.  If the guest is looking for a milder choice, American Red Snapper with Shrimp Creole or Craw-fish Etouffee or Parmesan crusted sheepshead.  Local #1 is Yellowfin Tuna - which is usually on the menu - Asian-style.  And in August, we'll be getting the best Pompano in the world."
Recipe: PARMESAN-CRUSTED FLOUNDER WITH BROWN BUTTER, ASPARAGUS, CAPERS, AND CRAB MEAT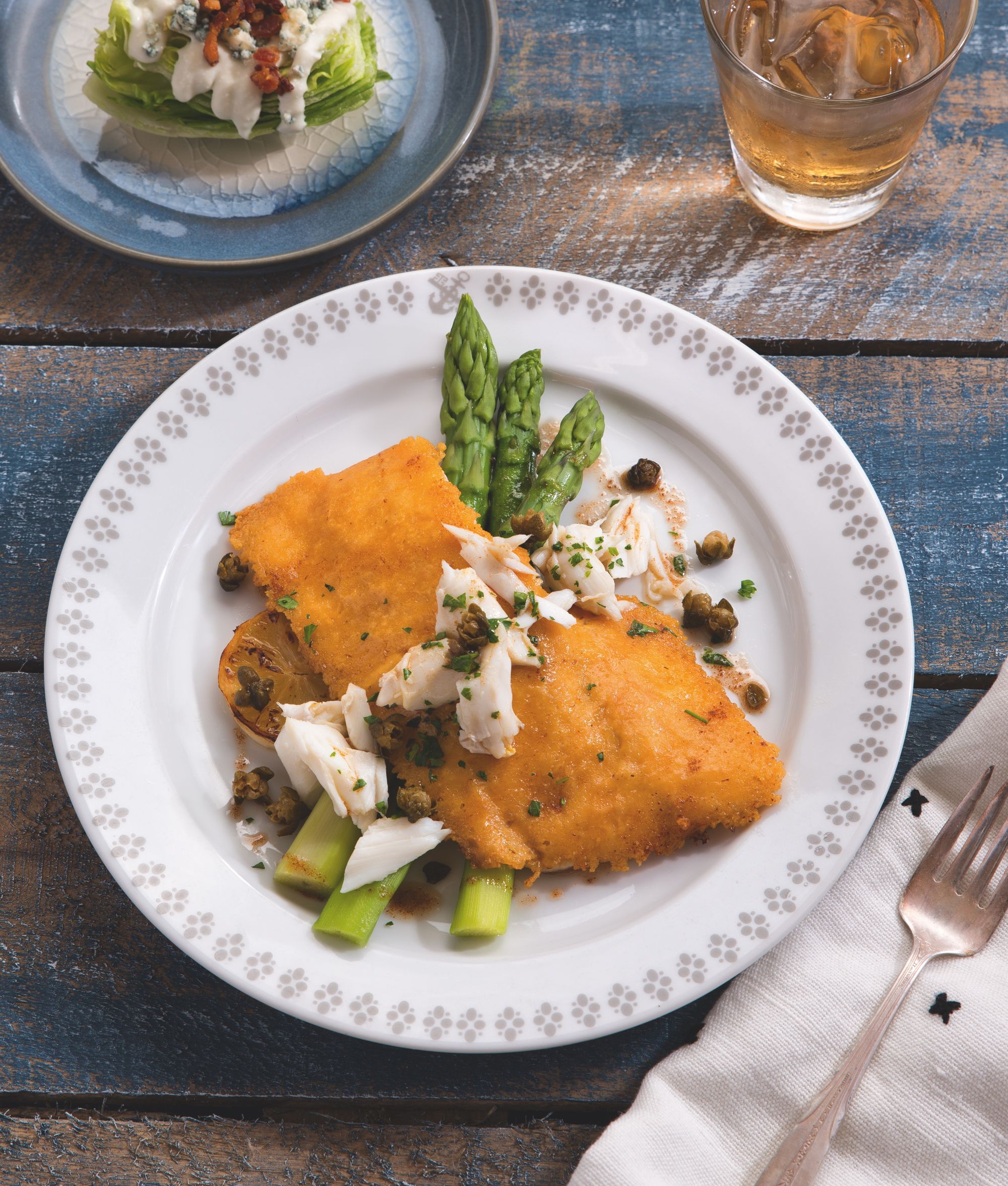 This method can apply to a wide-range of fish – drum, sheepshead, mahi or farmed catfish.  It's a carb-free dish, and Chef says he has yet to serve it to anyone who didn't love it!
(SERVES 2 AS A MAIN DISH)
Dredging fish fillets in finely grated cheese, instead of flour, is an easy way to add extra flavor and crunch without a bunch of extra ingredients. For this recipe, a seasoned cast iron skillet is essential for forming a crispy, golden crust, that does not stick. (Teflon doesn't work, trust me.) Finish with a simple meunière sauce, or dress it up as I suggest here. This is not a hard dish, but you do need to have everything ready as it comes together really fast.
Ingredients:
3 tablespoons vegetable oil, divided
1 tablespoon capers, drained
6 large spears asparagus, with bottom third of each spear peeled
2 (5- to 6-ounce) flounder or other thin fish fillets (Alternatives are sheepshead, snapper, or trout)
Vegetable oil spray
1⁄2 cup very finely grated Parmesan cheese
2 tablespoons salted butter, 1 lemon juiced,
1 teaspoon minced parsley
4 ounces jumbo lump crabmeat, picked through
Directions:
Line a small plate with a paper towel. Heat 1 tablespoon of the oil in a small skillet on medium-high heat. Add capers and fry for just a few seconds, until the buds open and they become crispy. Quickly remove with a slotted spoon and drain on a paper towel.
Meanwhile, bring a large pot of salted water to the boil over a high heat. Have a large container of ice water ready. Add the asparagus to the boiling water and let boil for 3 minutes until tender-crisp, but not limp. Remove the asparagus with tongs (keep water hot for reheating) and transfer to the ice bath to stop cooking. Drain on paper towels.
Place a cast iron skillet, large enough to accommodate both fillets, on a medium heat. Coat the fillets liberally with the vegetable oil spray. Spread the grated cheese on a plate and dredge the skinless (or rounded) side of the fillets in it, coating well.
Add the remaining 2 tablespoons of oil to the hot pan, then place the fish, cheese side down, in the hot oil. Do not disturb for about 4 minutes.
Put about a tablespoon of the cheese directly into the skillet as a test at the same time you add the fish. When you can slide a spatula under that fried cheese medallion, you can carefully loosen the fillets and turn them. A golden brown, fried cheese crust that completely coats the fish is what you're looking for here. (Lower the heat if it's browning too quickly.) Cook about 2 minutes on the uncoated side.
While the fillets cook, return the asparagus to the pot of hot water for another minute or so to reheat. Move the fillets to a warm plate. Wipe the pan out with a paper towel; immediately return it to the heat and add the butter. When the butter is medium brown (take care not to burn), add the lemon juice, parsley, and crabmeat. Turn off heat.
Using tongs, divide the hot, drained asparagus between 2 heated plates. Place the fish on top of the asparagus spears, spoon the brown butter and crabmeat mixture over the fish, and sprinkle with the fried capers.
SUGGESTED WINE PAIRING: Serve with Freemark Abbey Chardonnay (Napa Valley, California), a very clean, balanced, refreshing wine, with pear and apple aromas. An oak- aged chardonnay is always a safe bet with mild white fish and crabmeat.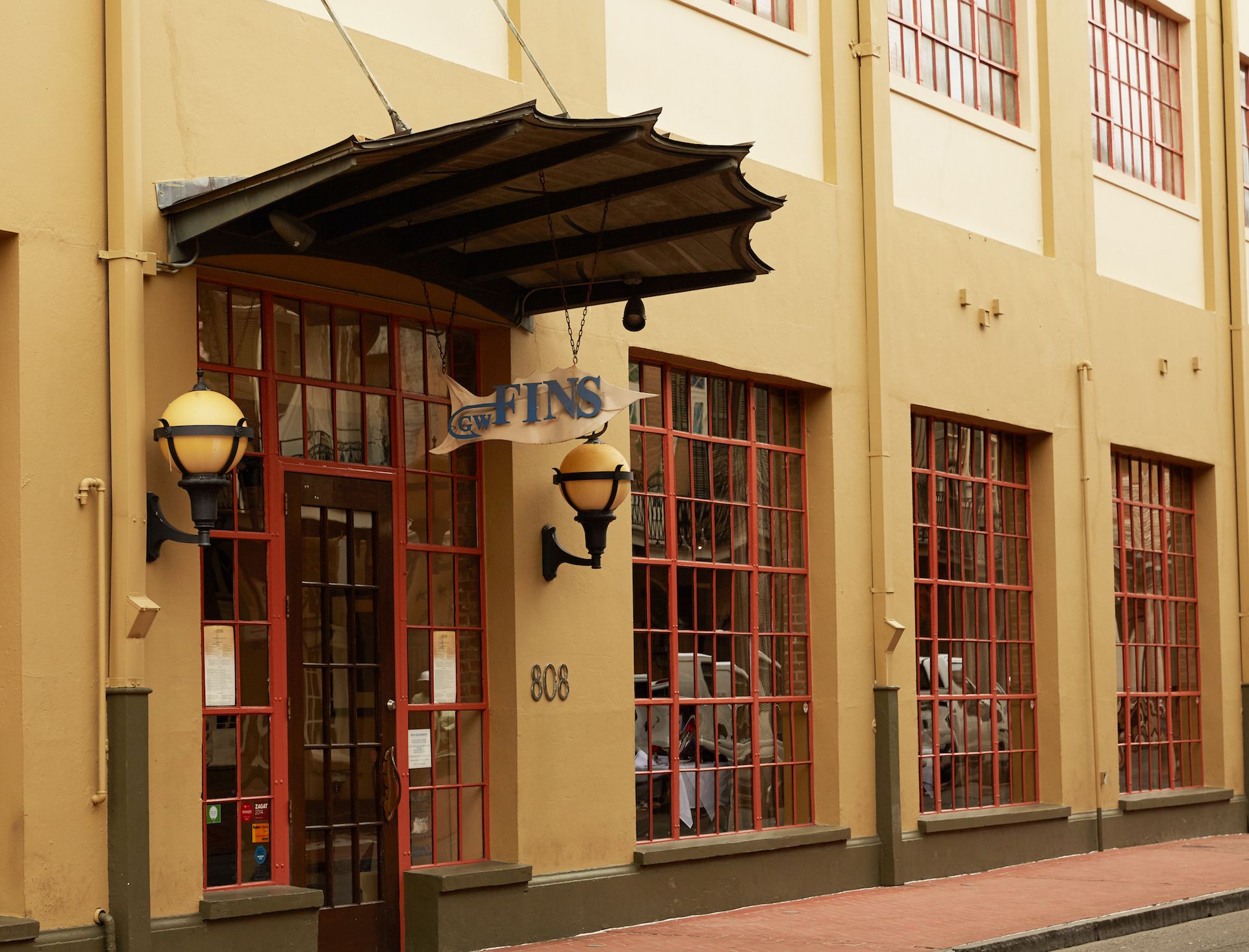 This recipe is from Chef Flyn's new cookbook 'The Deep End of Flavor' - which you can order from Amazon here. He recently cooked this recipe for the 'Kelly and Ryan Show' - check it out.
If you are in the New Orleans area or planning a visit, check out GW Fins:
GW Fins
808 BIENVILLE STREET, NEW ORLEANS, LA 70112