Wenatchee Peach Salad. A Taste Of The Lakehouse With Chef Joel Handshuh.
Meet Chef Joel Handshuh, the Executive Chef of The Lakehouse Restaurant in Bellevue. Learn how to make one of his favorite recipes - Wenatchee Peach Salad!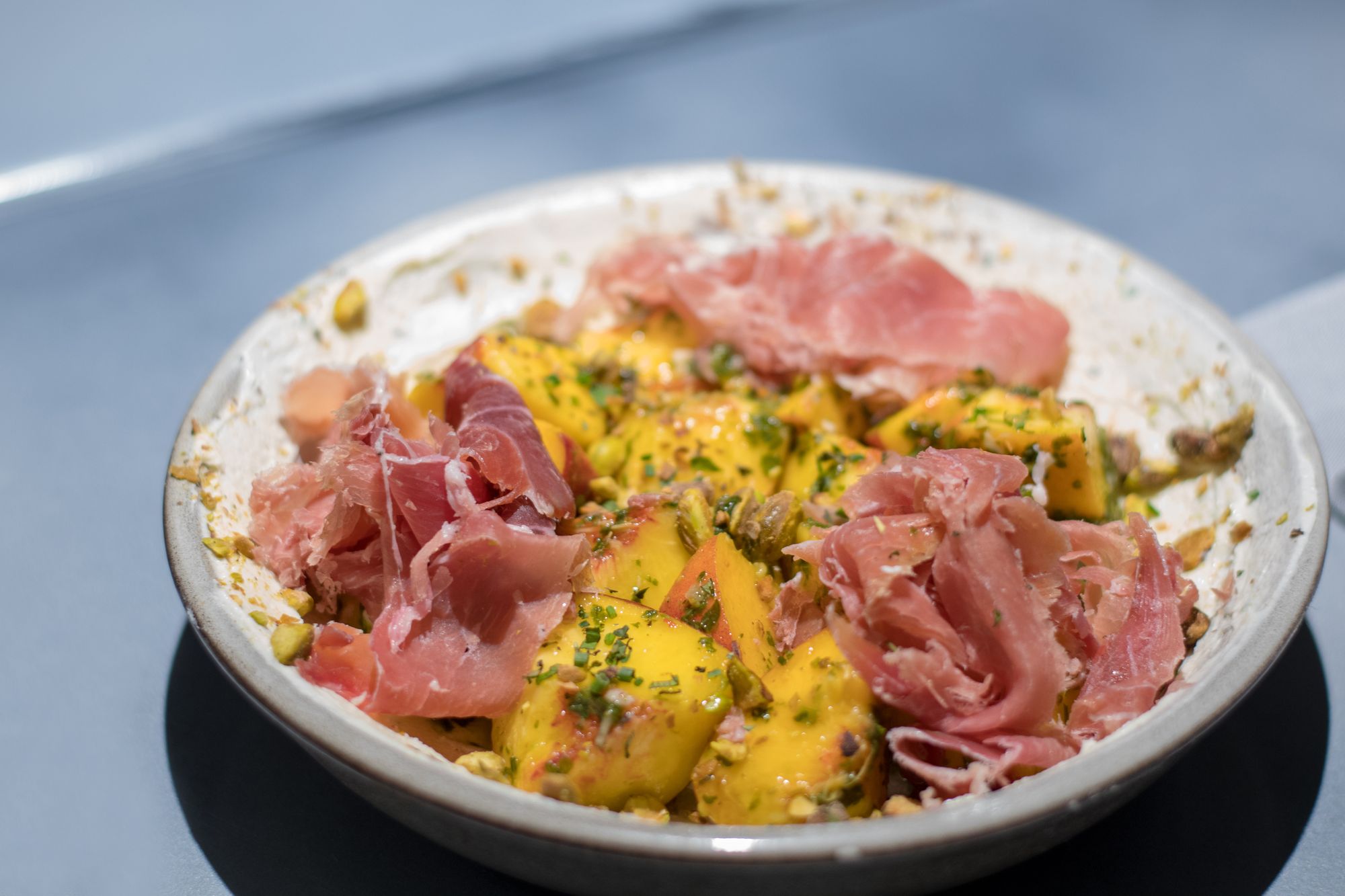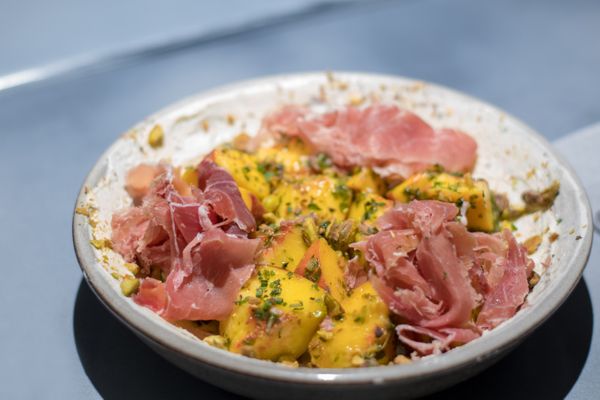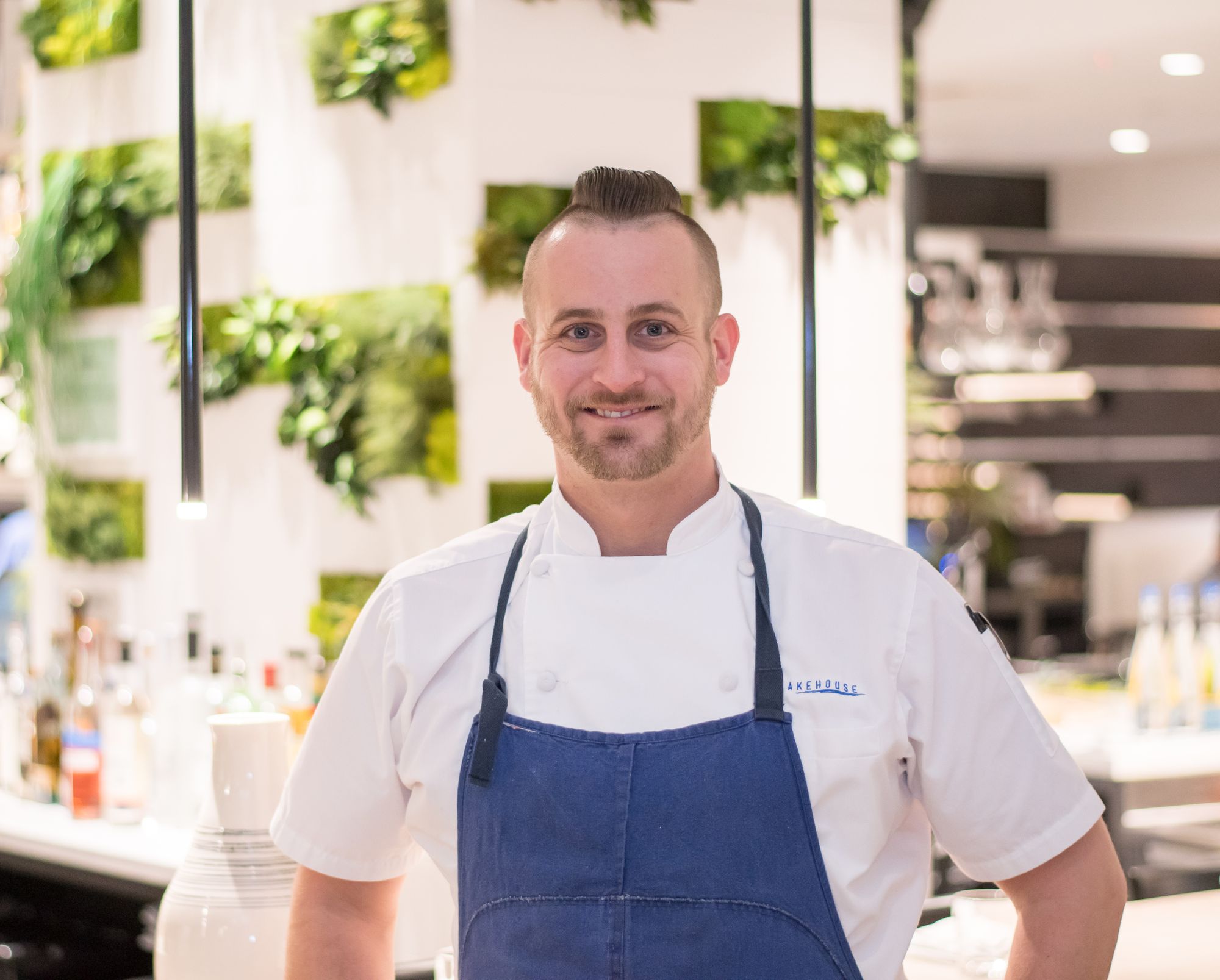 Chef Joel Handshuh is the Executive Chef at The Lakehouse Restaurant in Bellevue, Washington, which he joined in November 2017. The Lakehouse menu and concept emphasises "engaging, familiar and delicious farm-inspired craft-cooking". Joel is originally from Palm Springs, California. He began his culinary career while attending the University of Arizona, at the Tubac Country Club which gave him his first exposure to the world of fine dining and culinary arts. He has worked all over the United States at top restaurants, hotels and as a personal chef. Joel says that "cooking allows me to creatively express myself in a way that provides an immediate and tactile response.  Providing happiness for others through food is a feeling I have yet to match." To get to know him, we asked him a few questions and to share one of his favorite seasonal recipes.
What do you like to cook and why?
"I like to cook with anything that is in season. Proteins, fruits and vegetables at the peak of the season require minimal manipulation and allow the guest to fully enjoy the bounty we are lucky enough to work with here in the PNW.  For me, the reason we cook is to allow people to enjoy our vision of how certain foods should be appreciated and when you are blessed with optimal ingredients, the vision comes through even more clearly."
What is your best cooking tip?
"My best cooking tip for readers would be to a) find the very best ingredients you can and b) don't be afraid to experiment.  Foods are not meant to be relegated inside a certain box of how they should be prepared or what they should be served with. Be adventurous!"
What is one thing you would change about the restaurant industry if you were king for a day?
"I would change the perception and appreciation that diners today have for how incredibly difficult being a good chef is.  Cooking shows on TV have dumbed down the culinary arts and the time and dedication it truly requires to excel."
What are your favorite dishes to cook on your current menu?
"My favorite dishes on the menu to cook right now are our peach salad, soft shell crab and our 2 lb ribeye. The simplicity and purity of flavors just scream summertime, and for me, there is not much that I enjoy more than a warm summer day and some grilled meat and seasonal vegetables."
Why did you choose this recipe to share?
"I chose the peach salad because it is appropriate for any meal period, easily executable at home and simply delicious!"
Recipe: Wenatchee Peach Salad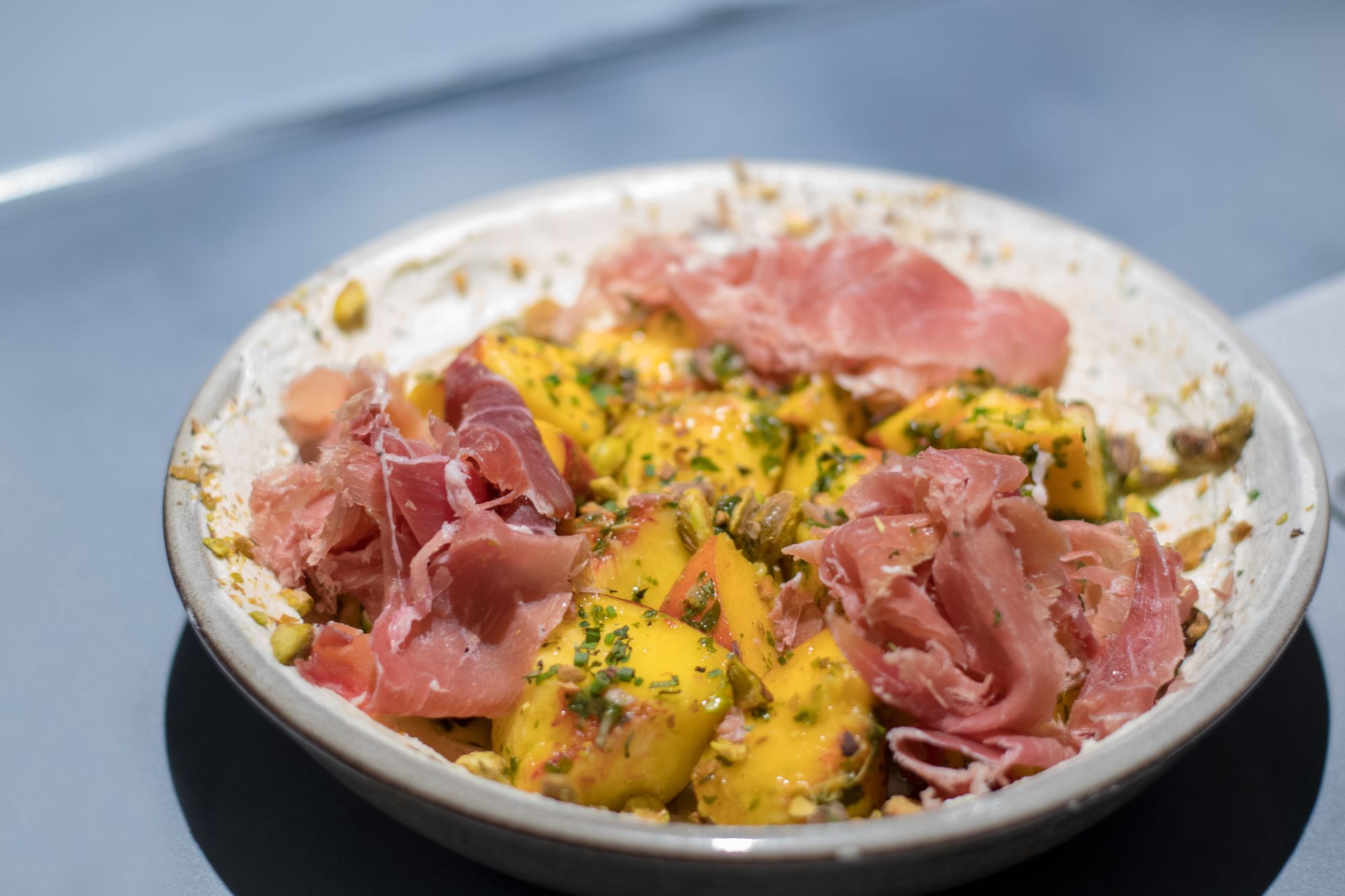 Ingredients:
½ cup goat cheese with your favorite herbs chopped and mixed in
1 ea ripe peach-pit removed and cut into segments
1/3 bunch wild arugula – torn
1 cup chimichurri (recipe below)
3 thin slices prosciutto di parma
1/3 cup toasted and lightly crushed pistachio
Procedure:
• Toss peaches and torn arugula with chimichurri and salt in a mixing bowl
• Spread your goat cheese along the bottom of the plate
• Lay your peaches and arugula within the perimeter of cheese on your plate or bowl
• Garnish with prosciutto and a light dusting of pistachio
• Enjoy!
Chimichurri:
1 lb Parsley
½ lb Oregano
1/4 lb thyme
1 cup roasted Garlic
3ea shallots
2.5 tablespoons red pepper flakes
1/2 cup salt
2 tablespoons black pepper
1/4 cup honey
1/2 cup EVOO
1/2 cup Canola Oil
1/2 cup Sherry vin
1/2 cup red wine vinegar
Procedure:
• Pulse parsley in Vitamix/food processor/blender with just enough water to liquify, add to container
• Pulse oregano & thyme with just enough water to liquify, add to parsley
• Mince roasted garlic and shallots, add to herb mixture.
• Toast red pepper flakes, add to mix.
• Toast peppercorns, grind and add to mix
• Whisk in remaining ingredients and add salt to taste.
If you are in Bellevue or are visiting soon, check out The Lakehouse!
The Lakehouse Restaurant
10455 NE 5th Pl, Bellevue, WA 98004, USA