Don't Be Afraid Of Tofu. A Taste Of Plum Bistro With Chef Makini Howell.
Makini Howell is the Chef and Owner of Plum Bistro in Seattle, Washington. Plum Bistro aims to offer a "beautiful and stylish dining experience for vegans, foodies, and omnivores". Learn how to make one of her favorite recipes - Cuban Black Beauty!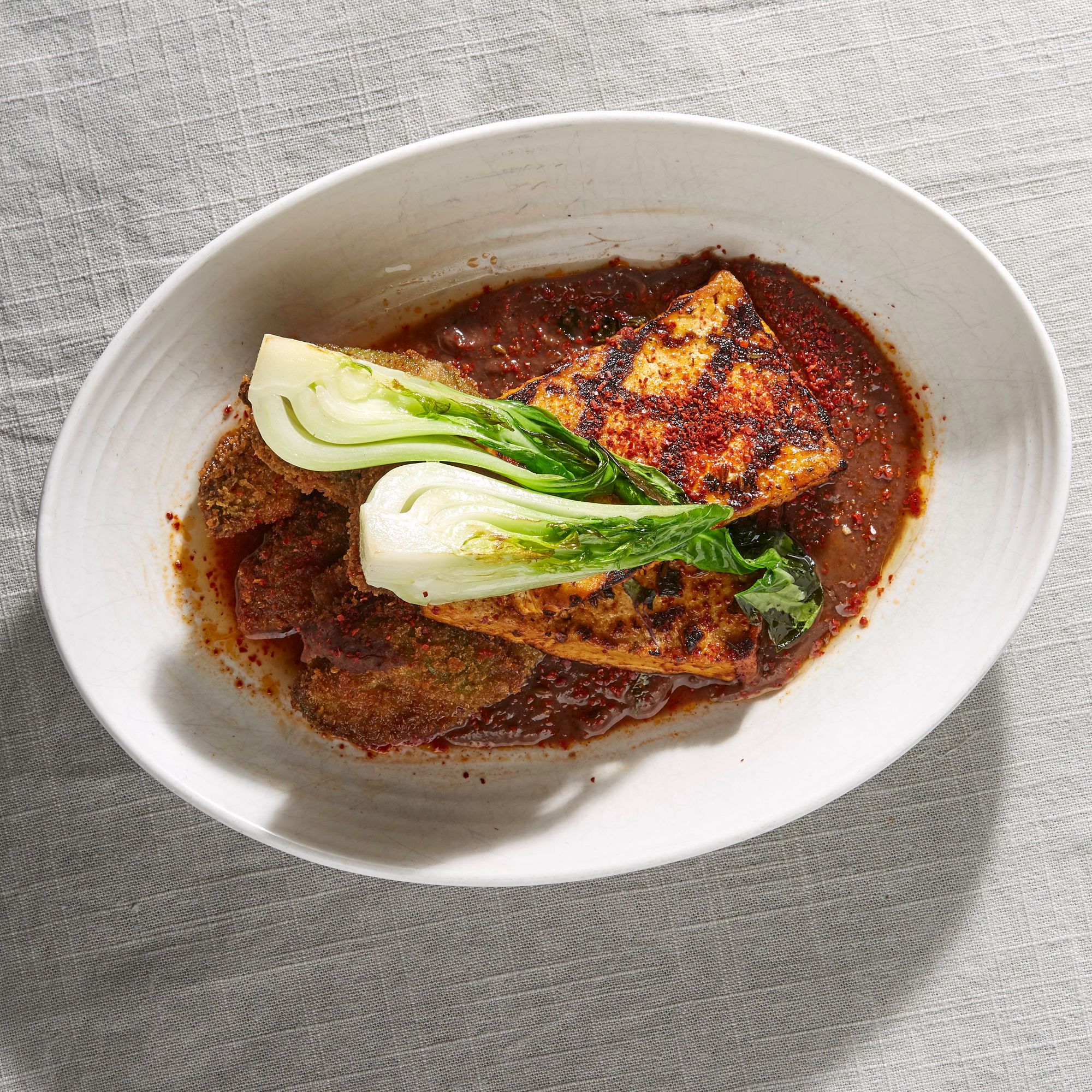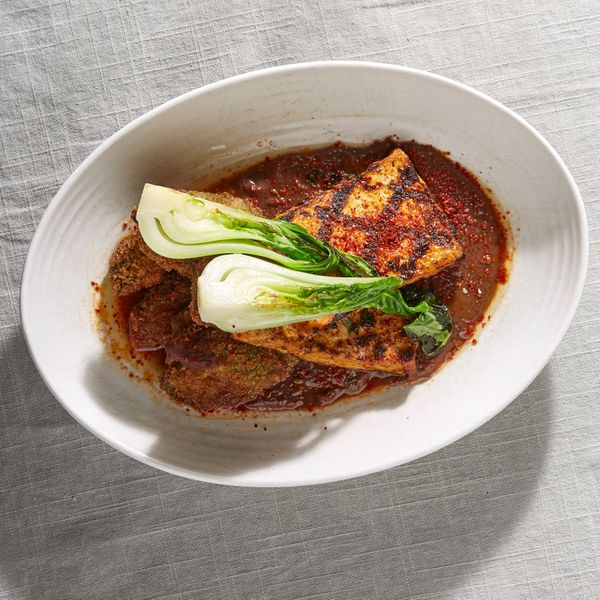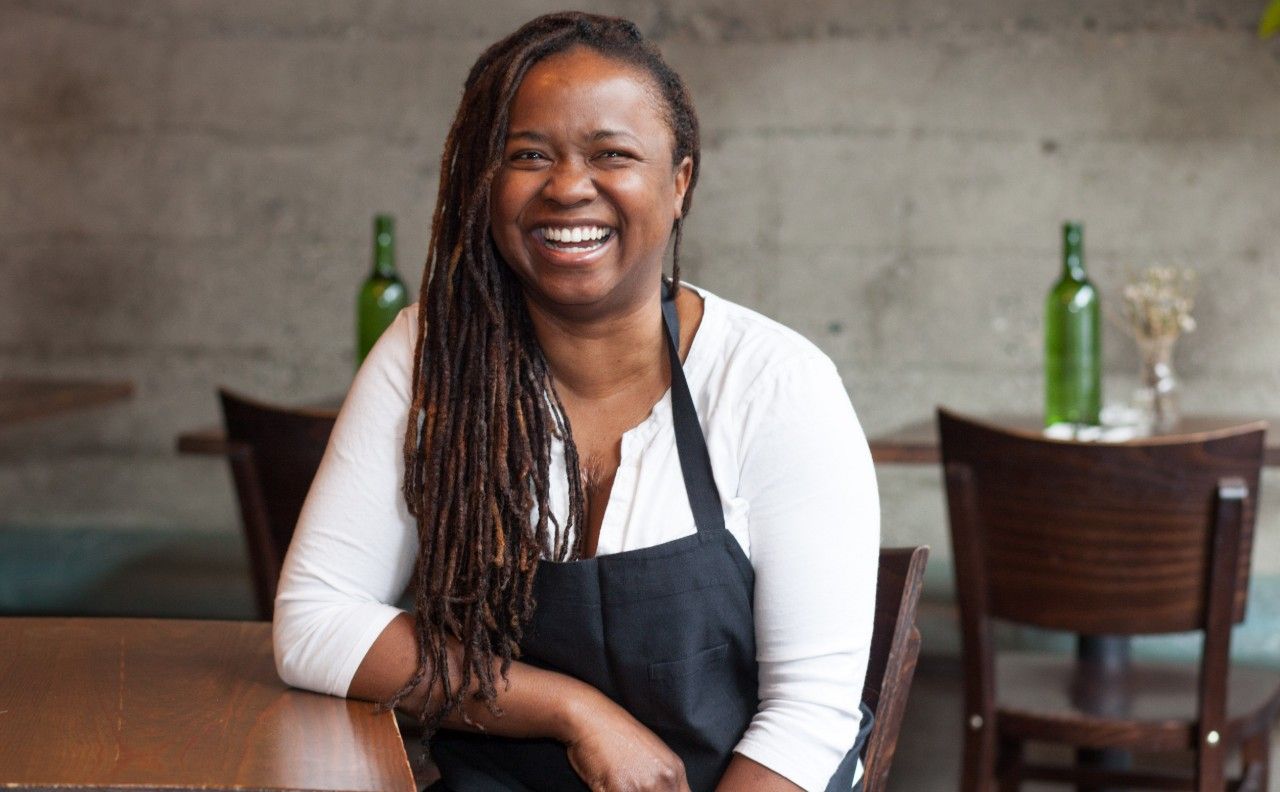 Makini Howell is the Chef and Owner of Plum Bistro in Seattle, Washington. Chef Makini is a lifelong vegan who created Plum Bistro "to answer the need for complete, plant-based meals, focused on organically-grown seasonal fruit and vegetables, non-GMO soy, from family-owned farms". Plum Bistro aims to offer a "beautiful and stylish dining experience for vegans, foodies, and omnivores". To get to know Chef Makini better, we asked her a few questions and to share one of her favorite recipes.
What do you like to cook and why?
"I like to cook plants. The world should know that plants are delicious! Plant-based restaurants are few and far in between, so I decided to create a dining environment for myself as well as other plant-based eaters. My restaurant embodies regional, American food, with a focus on plant based dishes that are beautiful, inviting, and delicious. With so much diversity in this land, cooking American food really gets you the best of everywhere. I believe the kitchen is where God lives. For every new dish, there is an opportunity for a second chance."
What is your best cooking tip?
"Don't be afraid of Tofu. Tofu gets a bad reputation because of the texture. However, all that can change with the right combination of flavors. Tofu has a long history. It has been a staple protein for thousands of years. It is important for all cooks and chefs alike to know how to cook a good tofu and tempeh dish because as vegans, we cannot simply rely on meat replacements. Tofu is a very diverse product, you just need to know how to use it. I go to Northwest Tofu Inc. to get fresh tofu because there is none other like it!"
What is one thing you would change about the restaurant industry if you had the power to?
"If I were Queen...I would pay everyone a fair wage. Pay more! Pay the people! A lot of this industry is run on people of color, women, and immigrants. I believe as a business owner that we should support the backbone of what makes this industry successful. They deserve it."
What are your favorite dishes to cook on your current menu?
"Black Truffle Gnocchi is my favorite dish to cook right now on our new menu. A few Plum Bistro favorites include My American Guy, a plant-based cheeseburger, our sweet pea and edamame ravioli with scalloped mushrooms and tofu bacon, and our signature spicy cajun plant-based mac & yease!"
Why did you choose this recipe to share?
"Cuban Black Beauty. Again, everyone should know how to cook tofu! This dish has a lot of flavor and texture components. It is both satisfying and completely plant based. The execution is both friendly to the home chef as well as in the professional kitchen."
Recipe: Cuban Black Beauty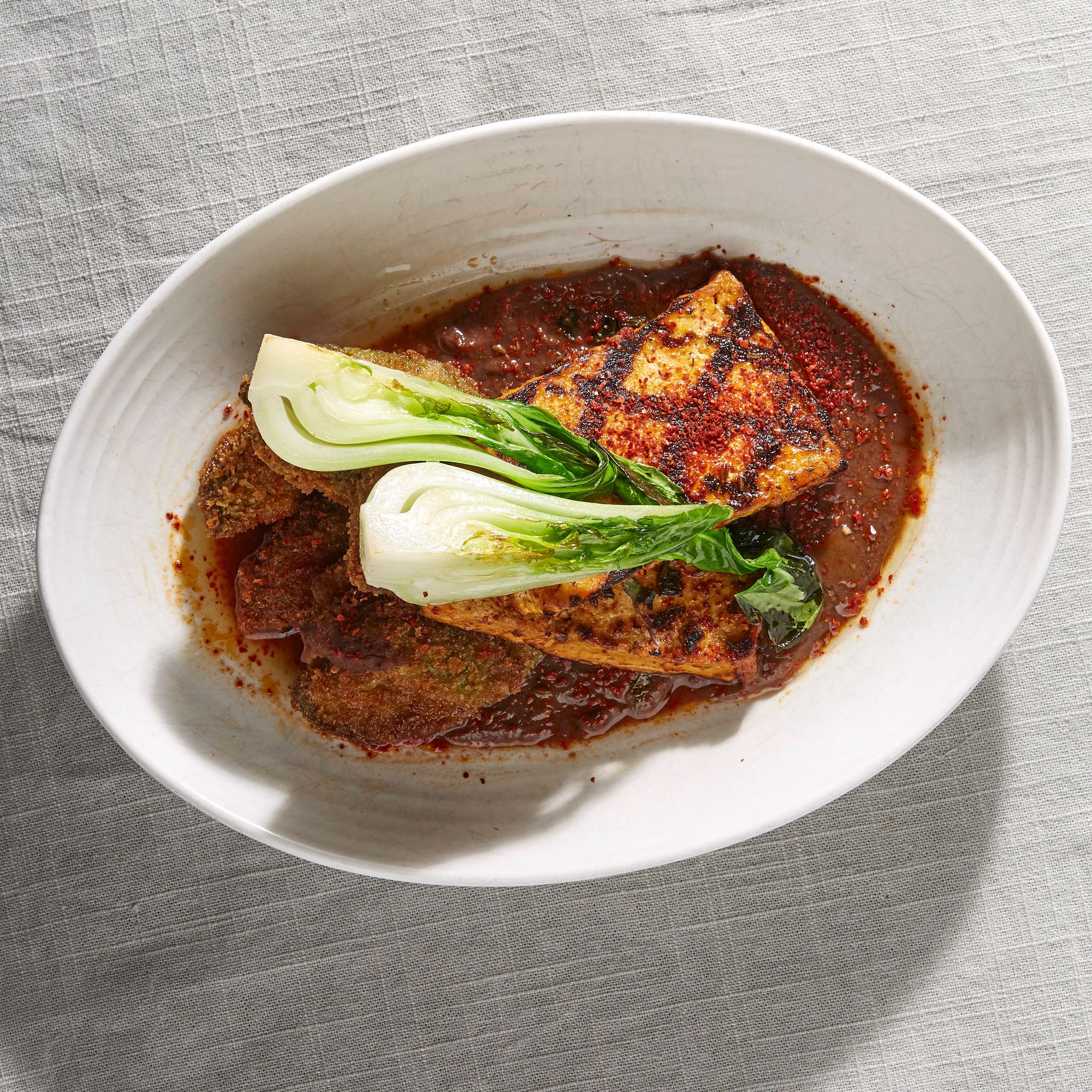 Components:
Marinade:
1 ½ cups vegetable oil
½ cup hoisin sauce
1 tablespoon soy sauce
¼ cup chopped cilantro
¼ cup chopped green onion
2 teaspoons crushed cumin seeds
¼ cup light red chili powder
2 teaspoons ground Sichuan peppercorn powder
2 teaspoons garlic powder
Salt to taste
Cross-hatch marked tofu:
1 lb island spring traditional firm tofu unfrozen. Or any firm tofu. If island spring is not available use a firm (not extra firm) unfrozen tofu. Cut tofu lengthwise (the long way) into half inch thick pieces you will get about 5 pieces per block (if your tofu comes in 1 lb blocks) spray pieces of tofu with cooking spray and mark with cross-hatch marks on a broiler on both sides.
Combine all ingredients and pour a layer on the bottom of a flat container, add in a layer of grilled tofu cover with more marinade and repeat until all tofu is submerged in the marinade
Baby Bok Choy with White Wine butter sauce:
1 piece baby bok choy cut into quarters
1 Cooking white wine
Chopped garlic
Whole cumin
Lemon
Earth balance buttery spread
Salt pepper
Canola or vegetable oil
Instructions:
Cut bok choy lengthwise into quarters heat a saute pan with a small amount of oil, once the pan is hot but not quite smoking add bok choy, lightly pan char on either side, add a pinch of garlic and a super tiny pinch of cumin cook for less than a minute or until garlic browns, pour in a generous splash of white wine, add a squeeze of lemon, allow wine to cook off turn off the flame and add in a generous knob of butter. Salt and pepper to taste.
Black Bean Puree:
Ingridents:
1 15oz can  black beans drained
2 tsp  lime juice
1 tablespoon  fresh cilantro chopped
2 tsp  green onion chopped
pinch finely ground Szechuan peppercorns
¼ tsp light red chili powder
2 tablespoon canola oil
2 tsp soy sauce
2 tsp vegan hoisin sauce
Instructions:
Combine all ingredients in a large mixing bowl, add ingredients a few cups at a time to a vita mix blender and blend until super smooth.
Panko fried avocado:
Ingridents:
1 Whole avocado
Japanase panko mix
Salt and pepper
Vegan buttermilk
Instructions:
Add salt and pepper to panko
Cut avocado into 8 wedges from one avocado
Dredge avocado in buttermilk and dip in salted panko set aside. repeat until all avocados are breaded.  
Drop avocados into a heated fryer at 350 or 400 degrees, cook until golden brown.
Vegan Buttermilk:
Place 1 tablespoon apple cider vinegar, or white vinegar in a measuring cup.
Add enough soy milk until it reaches the 1-cup line; stir with a fork or whisk.
Allow mixture to rest for 5-10 minutes.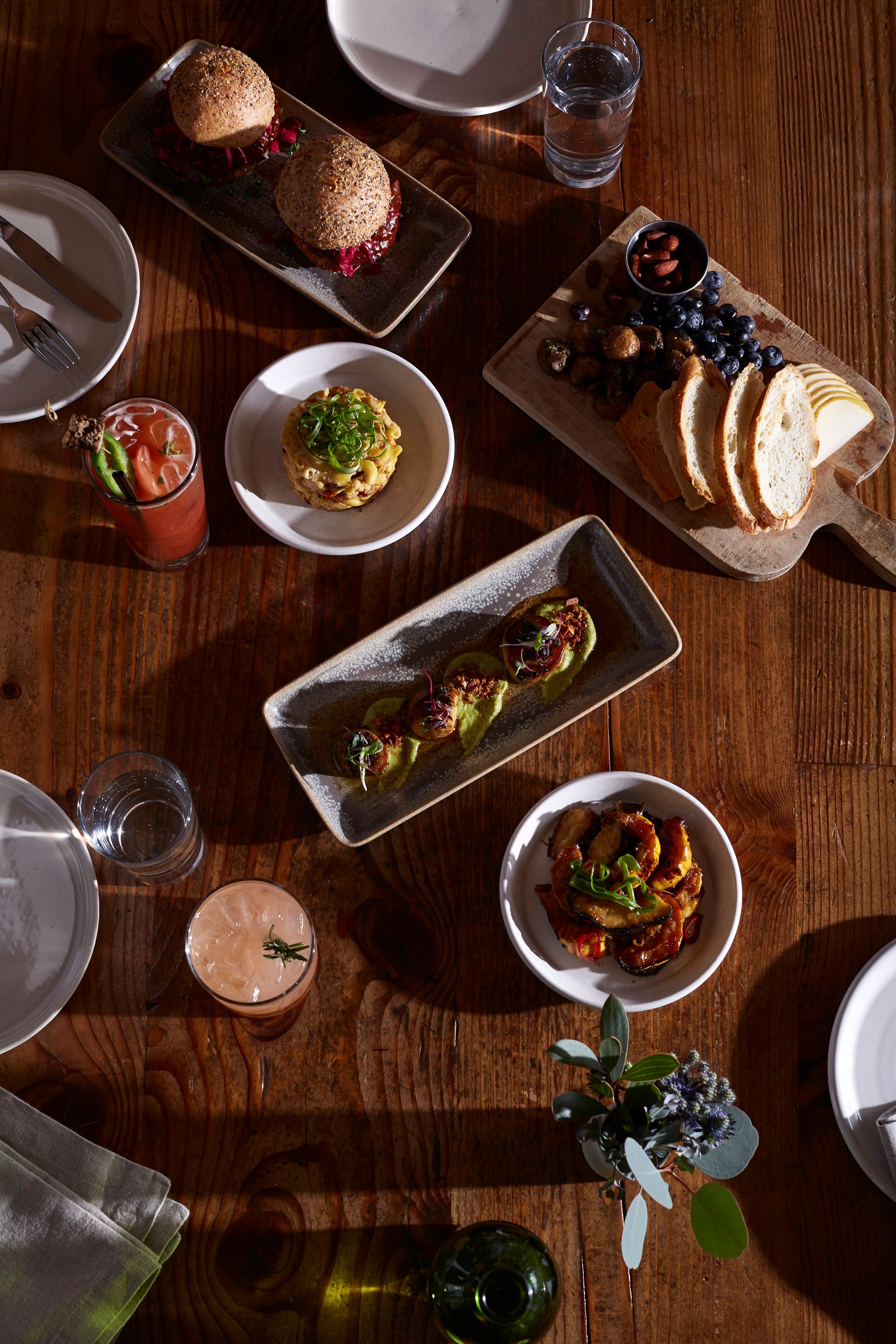 If you live in Seattle or are visiting soon check out Plum Bistro.
Plum Bistro
1429 12th Ave, Seattle, WA 98122, USA