Oaxaca Cheese Stuffed Squash Blossoms. A Taste of 'The Dawson' With Chef Angel Guijosa.
Meet Chef Angel Guijosa and learn how to make one of his favorite recipes - Oaxaca Cheese Stuffed Squash Blossoms.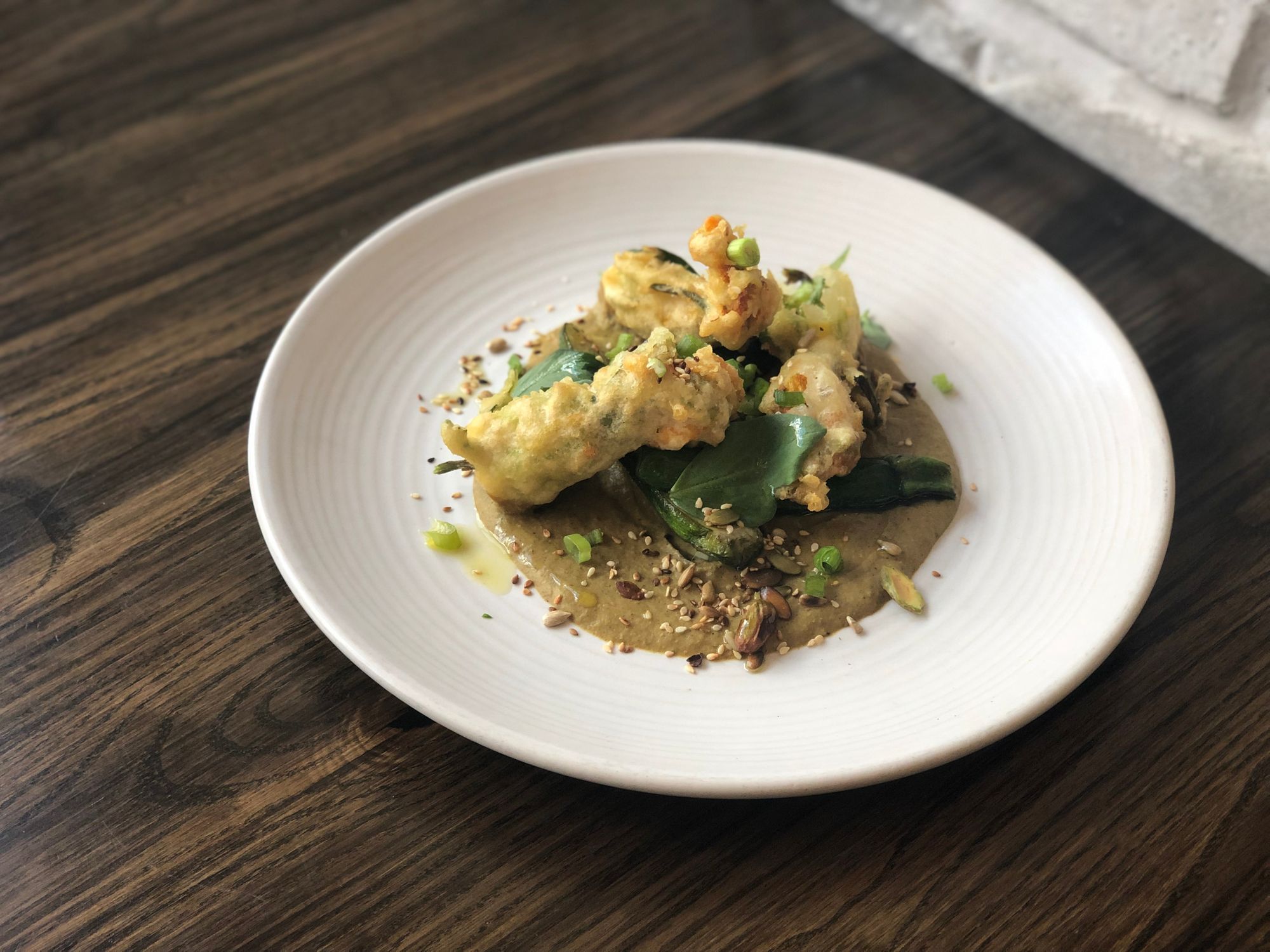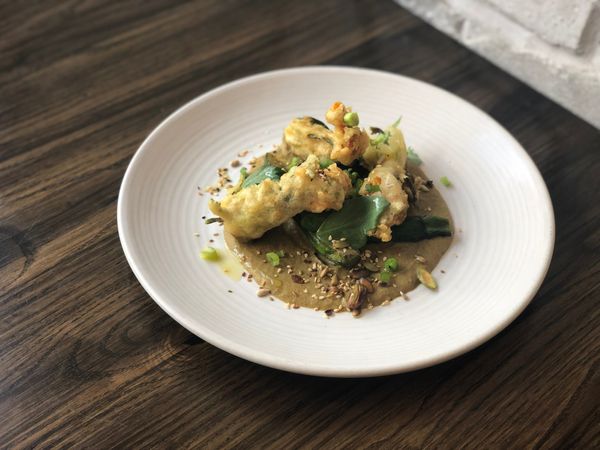 Chef Angel Guijosa is the sous chef at The Dawson. The Dawson is located in the Fulton Market District of Chicago. They offer a menu of "globally-inspired American" dishes that "highlight the season's best offerings and diverse, yet approachable, ingredients and flavors". In order to get to know Chef Angel, we asked him a few questions and got him to share one of his favorite recipes.
What is your favorite meal to cook?
"My favorite thing to cook would definitely be anything breakfast. I always feel comforted by sitting down and enjoying a meal in a tranquil state of mind before a hectic day."
What is your best cooking tip?
"As cliché as it sounds, just go for it!  Abide by the recipe and taste, taste, taste!  If you mess it up, it's perfectly okay. The beauty of cooking is there's always a solution to anything in the kitchen. You just have to keep trying, even if it's not perfect the first time. Repetition makes perfection."
What are your favorite dishes to cook on your current menu and what dishes do you recommend the most to diners?
"One of the newest additions to our summer menu at The Dawson are the Oaxaca cheese stuffed squash blossoms. It's an easy and fun dish to plate, that looks striking due to the rich green color of all the ingredients. Another must-try on our menu would be the half grilled chicken, which is packed with flavor. The chicken first gets sous-vide in a Persian marinade (saffron, yogurt, onion), then its grilled over our wood burning grill and served with grilled naan, muhammara, a fresh herb salad, and finished with vadouvan oil."
Why did you choose this recipe to share?
"Squash blossoms are a true summer delicacy, as being in the Midwest, we can only get them a few months out of the year when they are at their peak.  It's an ingredient that you'll always remember and connect with during a certain time of year, every year.  Squash blossoms are very tender and delicate, so you have to be precise and scrupulous when prepping them.  At The Dawson, we stuff ours with Oaxaca cheese and then they are tempura fried.  Apart from the blossoms, the second, if not the most important aspect of the dish, is the green pistachio mole.  The process to make it is very intricate and long, but the final creation is worth the wait."
Recipe: Oaxaca cheese stuffed squash blossoms with green pistachio mole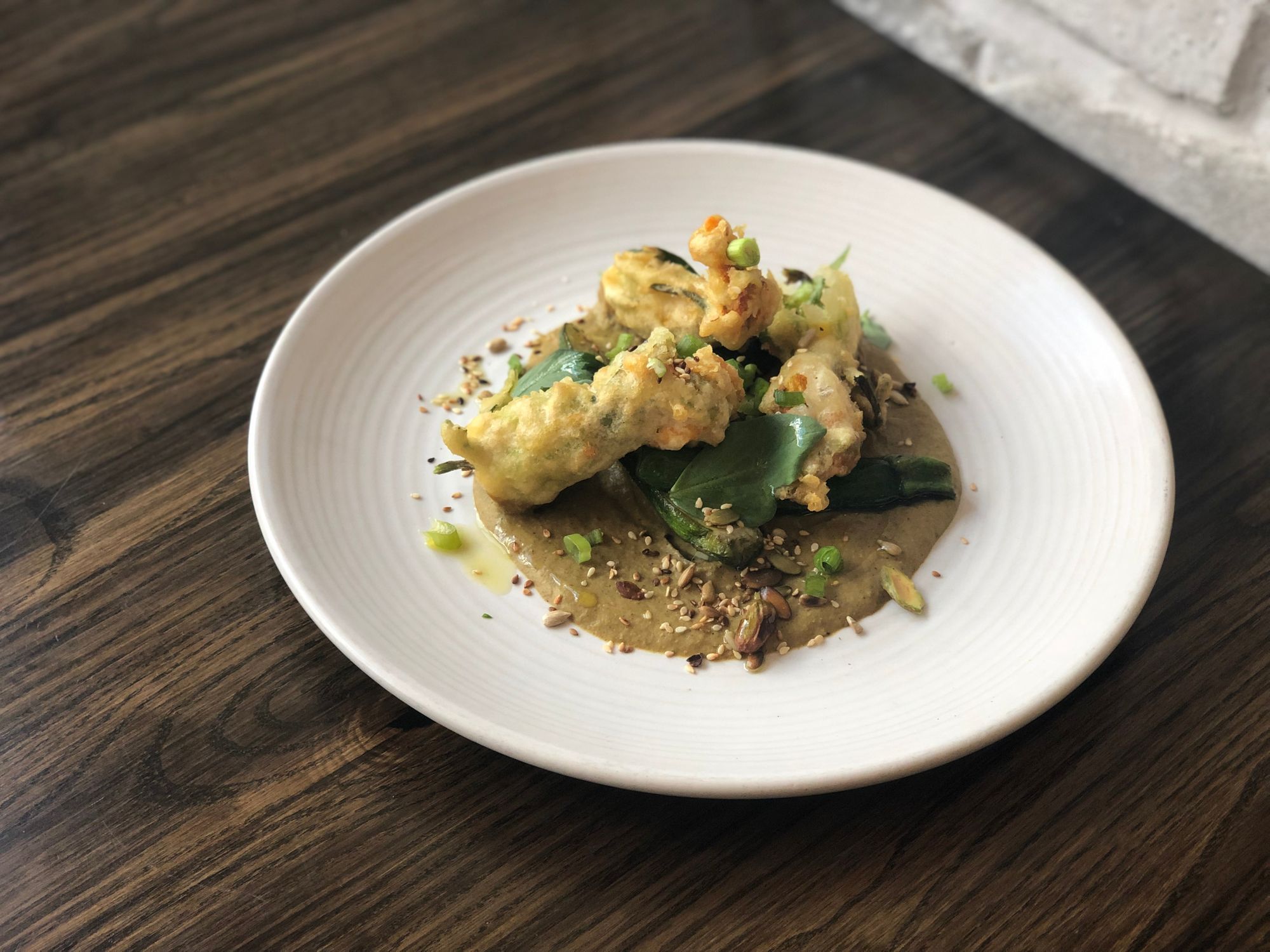 For the green pistachio Mole:
(Makes 5-6 quarts)
8ea. poblanos
12ea. Tomatillos
2ea. Yellow onion
4ea. Garlic cloves
2 bunch. Cilantro
.5c. Pepitas
1c. Pistachio
1c. Sesame seeds
4ea. Corn tortillas
.5c. basil
.5c. Mint
1 T cumin
1 T Coriander
1 T ground fennel
8 C. Veggie stock
Salt and pepper TT
Procedure:
Roast poblanos and let them rest. Mean while rough chop the onion, garlic, cilantro, and tomatillos and the herbs. Preheat a skillet and add the chopped vegetables. Turn down the flame and Cook until translucent. Meanwhile, peel the poblanos and remove the seeds (optional) fold in the poblanos and cook everything together. In a separate pan, toast the pepitas, pistachios, and sesame seeds. Add to skillet. Char the tortillas and add as well. Once everything is cooked down, add veggie stock and let simmer for 5-7 minutes. Blend everything together and season to taste. Refrigerate once it's cooled down.
For the squash blossoms/baby squash:
(Makes 2 servings)
2 baby zucchini
3-4 squash blossoms
Oaxaca cheese
1c. rice flour
.5t. baking powder
.5t corn starch
.5c. soda water
TT. salt
Preparation: Cut the cheese into 1/2 inch segments. Remove inside pollen bulb, stuff the blossoms with the cheese. With a little water on your fingers, grip the ends closed gently. Set aside in a refrigerator. Meanwhile, preheat oil in a pan to 350 degrees on a low/medium flame. In a bowl, whisk all the dry ingredients and slowly add in the soda water. Add a little more water as needed. Coat the blossoms in a little corn starch before tossing in the tempura batter, slowly in a swimming motion, then add the blossoms to the fryer. Move around as needed. Pull them out using a metal slotted spoon then season with salt. Cut the baby zucchini in half, season with salt and pepper and grill until tender/al dente.
For the peptite salad:
Easter egg radish
Fava leaves
Red onion
Preparation: Shave finely, then toss with extra virgin olive oil and lime juice, salt and pepper.
For crunch medley:
.5C pepitas
.5C sesame seeds
.5C. pistachio
Preparation: Toast pepitas and pistachios in a dry pan until almost golden brown, add in sesame seeds and toast until completely golden brown. Set aside to cool then serve.
Cook/ make all elements separately, then serve together.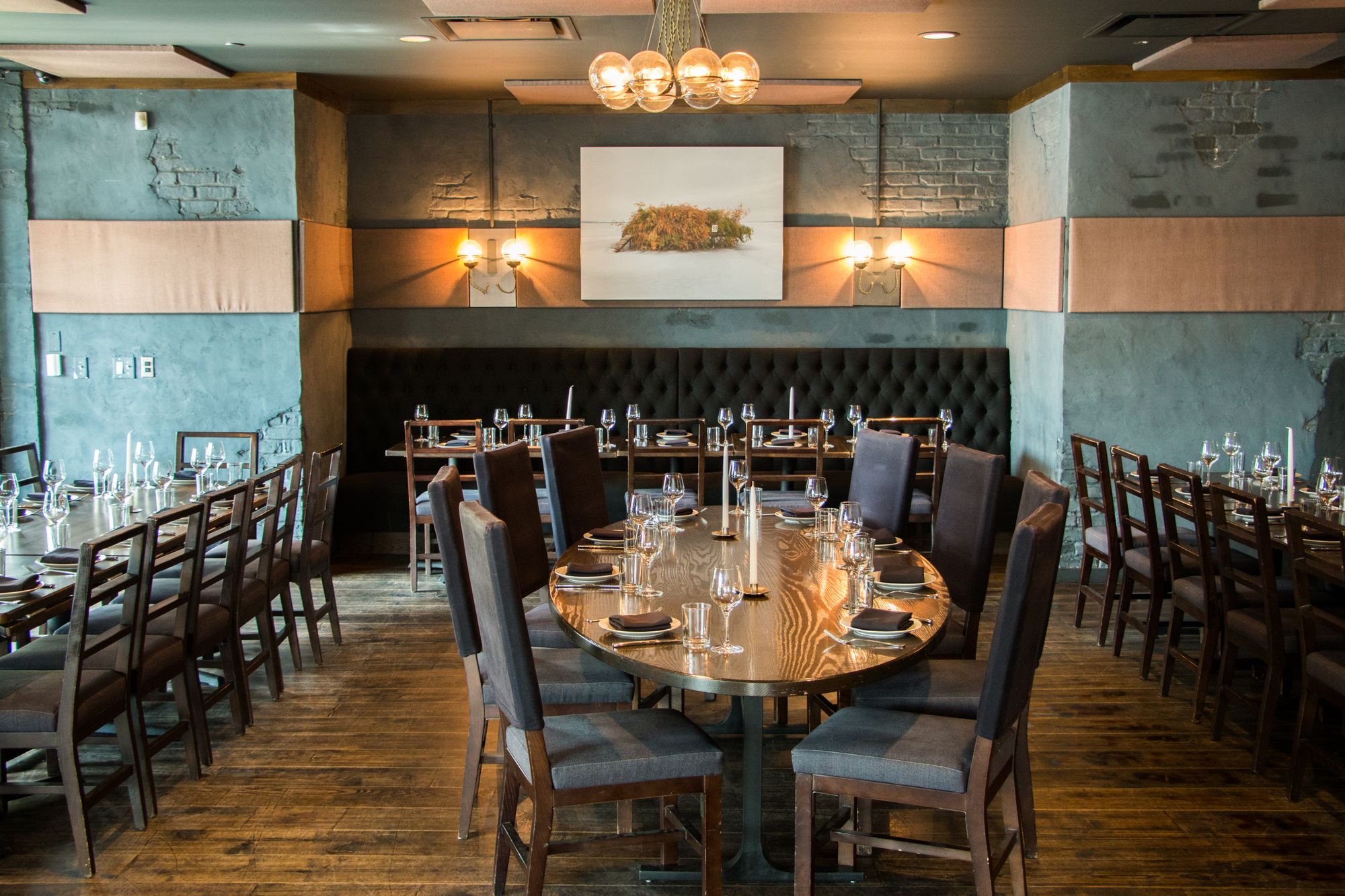 If you are in Chicago or are visiting soon, check out The Dawson!
The Dawson
730 West Grand Avenue, Chicago. 312.243.8955